Business cards that break the ice - 3 spellbinding, affordable finishes you need to see
Published: 15 June 2017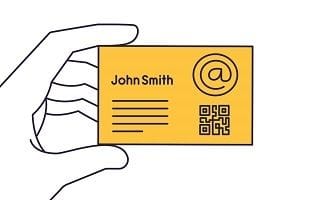 Like a confident handshake and a warm smile, business cards play an important role in the impression you leave on people.
They can open doors to new business, new partnerships and new connections you might never otherwise enjoy.
But, these days, it's hard to impress someone with a regular business card
Why? Because like a magician who pulls rabbits out of hats and saws pretty ladies in half, most of the people you hand your run-of-the-mill business card to have seen it all before.
So how can you excite clients, suppliers and other associates with a business card these days? And be remembered fondly days, weeks or even months down the track?
New technology means the impossible is now practical for every SME
If you want to stand out from the card swapping crowd, you need to be a master of illusion, like David Copperfield or Dynamo, and give your audience an experience they never expected. Something they can see and feel, yet wonder how you did it.
Sounds like a bunch of hocus pocus, right? Not anymore.
Advances in print technology have made business cards that were once financially impractical for SMEs, not just a possibility, but a business-smart, cost-effective choice.
Today, anyone can do small print runs of business cards with premium quality embellishments and finishes, even on a small budget.
Here are 3 examples of stunning business card embellishments
Some of the beautiful, eye-catching finishes available to you these days include:
1. Scodix - shiny smooth and textured raised finishes
This is a finish that adds a luxurious look and feel to your cards. It allows you to transform what would otherwise be an ordinary card into something opulent through beautiful embellishments that make graphics, logo or text mysteriously appear to float on the surface.
The enhancement is printed after the regular printing and laminating process.
2. Gold and silver raised printing
If you want your business card that's a conversation starter, shimmering gold and silver ink letters or logos look sensational. Using heat, the metallic foil gets transferred to the surface of the stock that creates a vibrant, sophisticated hue that's soft under the fingers.
So they're not just eye-catching as you pull them out. They feel amazing as you hand them around too.
3. Spot UV gloss finish
If you're looking to add an x-factor to your card design without changing too much, Spot UV could be ideal. It's a quick and simple technique to take cards to another next level of creativity and beauty. As the name suggests, ultraviolet light cures glossy varnish to create a shiny finish as light catches the partially coated portion of the cards.
When you dip an image, logo or text in spot UV against a matt background it really leaps off your business card. Better yet, UV coatings are solvent free so they are environmentally friendly.
A smart and easy way to get noticed and be remembered
Remember, people in business are super busy and easily distracted these days. Just like you. So it's crucial to make a great impression the first time you connect.
Whether you're swapping business cards at a one-on-one meeting or a hectic networking event, an exquisitely unique and beautiful finish can give you an edge over your competition.
Not just as a fun ice-breaker, but to remain memorable once the meeting or gathering is long over.
And sometimes, it's those brief moments in time that can turn out to be the difference between winning a new client or not.
If you'd like to know more about these business card finishes, or see and feel them firsthand, contact your local Snap Centre.