Business card design essentials
Published: 9 January 2014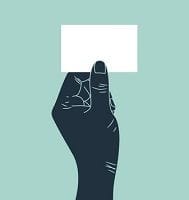 Leave a lasting impression
Within moments of meeting you, a potential client is building up a lasting opinion of your business. And one crucial aspect of real-world networking is your business card. A thoughtfully designed business card gives you the opportunity to turn connections into clients. That might be asking a lot from cardstock but it is achievable.
Ensure you make a lasting impression by following these four design essentials for your business cards.
Image is everything
Make sure your business card is thoughtfully designed to impress the type of clientele you want to attract. From paper thickness to font choice, the visual specifications of your business card will help tell the story of your company so make them count.
Consider readability
An often-overlooked consideration of business card design is the font choice. Ensure you consider your clients during the
font-selection
process. As a general rule of thumb, your business card's font should be sized at 8 point or over anything smaller than this will impact the crispness of the line. While font selection is largely a matter of preference, consider that some fonts were designed specifically for the web, such as Verdana.
Resist clutter
Having too many focal points and clashing design aspects will blur the overall message of your business card. Choose the core message you wish to communicate about your business and build your card's design around it. Including the core details of your business name, address, phone number, website and, where relevant, social media pages are often all that's needed to create a powerful design.
Have a cohesive colour scheme
Whether you choose a monochromatic, complementary or triadic colour scheme, ensure the colours you choose match the existing profile of your business. A bright, bold colour or a mishmash of two can make your card stand out from the crowd, while pairing black and white with a pop of colour is a sure-fire combination that will add a touch of class to your overall design.
Contact Snap to see how we can help with designing your business cards.