Business boosting graphic design trends
Published: 14 April 2017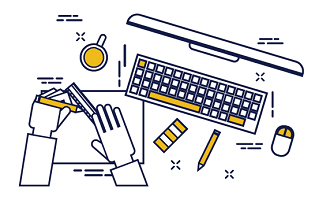 Business-boosting graphic design trends
You've probably read that human brains process visual information 60000 times faster than text. Or maybe you saw it in an infographic or a video. Either way, let's not waste words. Here are the graphic design trends making a hit with audiences in 2017 - and can help your business do more of the business.
Keep it simple
The world is like a giant Las Vegas strip these days. Flashing lights, websites, social posts, cat videos are everywhere. It's almost impossible to get noticed.
Instead of using lots of elements to convey the message, designers are moving to one or two elements. The focus is one central point and everything else highlights that message.
Use real photos
There was a time when stock photos ruled the graphic design world. Not anymore. Studies show people want to see people just like them. Doing things they do.
Including photos that have a genuine look and feel (better yet, are 100% genuine) brings uniqueness to the design and helps to better connect with your audience.
Duo-tones
This is where a couple of colours are used over the photo (or two tones of the same colour) to produce an eye-catching effect. A graphic design using duotone adds contrast, vibrancy, and attracts attention. A bold use of duotone also pops images against neutral backgrounds.
It's a great technique for social media pages and blogs.
Bold typeface
While subtle will always have its place, bold typefaces are coming back with a bang. When used with mixed fonts, the bold typography can really draw the eyes in.
Hand-drawn
The human element of hand drawn designs is refreshing and reflective. People also see it as a nostalgic return to their younger years. These designs are light, magical and unsophisticated with a personal touch that is often missing today. They can be especially powerful in logos, branding, packaging and websites.
Merging UX in design
Today, graphic designers need to deeply understand the audience and their experience especially online. This means including the customer journeys, business benefits and company value proposition in every element of the design in order to build interest and conversions.

Animations and GIFs
Animated GIFs attract three times more attention than static photos. Make use of them on websites, social posts, email newsletter and ads.
Google Fonts
These universally accepted fonts come in more than 800 varieties - mostly free to use. Sites like Typewolf and fonts.greatsimple.io show you some of the most popular options and how creative designers are mixing n' matching them.

Telling Stories
There's no reason all of your graphics need to be static. Research shows short videos are one of the most powerful way to get attention and hold it. For example:
a video on a landing page can increase conversion rates by 80%
92% of mobile video consumers share videos.
The challenge is to tell your story in a very short space of time. However, you can already see how popular short video has become on Facebook, Instagram, Snapchat and Periscope. Now is the time to explore and test for yourself.

Need some graphic expertise to help capture your busy customer's eyes, hearts and minds? Talk to the Snap graphic design team today.