Boost your website the right way
Published: 3 January 2017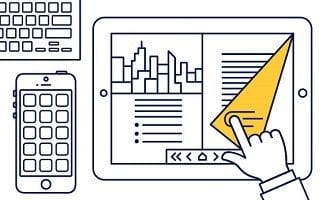 How interactive web content boosts customer attention, love and sales
Another day, another online marketing buzzword to contend with. "Interactive content?" we hear you ask. Learn what it means in plain ole English and how you can use it to double your conversion rates.
There's a lot to sit back and take in these days
When you read an article like this, you're passively taking it in. Aside from the occasional scroll, you're not terribly involved in the content.
We're doing all the talking, you're doing all the listening. Or so we'd like to imagine.
In reality though, we both know there are other things going on in your world perhaps an important email just arrived. Or you're listening in on some juicy office gossip in the next cubicle. Or you're waiting for your local barista to announce that your long macchiato is ready.
The point is, when online content is passive, it's easy for readers to get distracted by, focus on, think about or do other things.
But if content requires audience participation, that's when things get interesting
There's a saying, 'Tell me and I forget, teach me and I may remember, involve me and I learn.' It's been attributed to everyone from Benjamin Franklin to a Chinese Confucian philosopher, Xunzi.
Whoever came up with that gem clearly understood interactive content and its power to make people:
more engaged in, and fascinated by, the material
more focused on the message
feel more invested (through action)
more likely to take the next step (buy, call, subscribe, join, visit, etc)
Plus, it differentiates you from competitors not an easy task in today's busy market.
Examples of interactive content
Interactive content takes many shapes, sizes and forms. Here are few that work exceptionally well:
White Papers and eBooks
Including things like assessments, surveys, calculators or knowledge tests so readers can learn while actively answering questions related to the content.
Mobile apps
People love playing on their phones and well-designed mobile apps are like Disneyland to swiping thumbs. The whole experience is based around interaction whether it's searching, using tools, looking at maps, clicking call buttons and more.
Configurators
Allow people to build their ideal version of a product, service or scenario online e.g. an outfit, car, holiday, house, etc.
Content wizards
Similar to configurators, but usually a series of questions with a limited selection of answers designed to build and present content at the end e.g. finished resume, suggested courses to study, type of loan to best match your needs, ideal plants for your garden, etc.
Interactive press releases
This could include adding relevant videos, links and snippets of related content, navigable slides and more. See an example here from Wyndham Hotel.
Interactive Infographics
Being such visual creatures, static infographics are natural head-turners. By adding elements that allow people to click for more information throughout the learning journey and they can really drive home your message. This futureofcarsharing.com example does it well.
Calculators
Crunching numbers with online calculators can help people learn about their existing habits and problems (time invested, calories eaten, dollars spent) and possibilities (savings to be made, investment property to be paid off). Is there a way for you to let customers use calculations as part of your sales process?
Quizzes and self-assessments
Simple, cost-effective and intriguing ways to let people test their knowledge or discover things about themselves, your offers and more.
Does interactive content really make a difference?
The research is in and, yes, it does:
93% of marketers say interactive content is effective at educating buyers
88% say interactive content is effective at differentiating their brand compared to 55% for static content.
Average conversion rates for interactive content are around 70% - while static content dwindle anywhere from 5- 36%.
It makes sense when you think about the shift in today's buyer's journey away from a reliance on sales monologues and dialogues to self-service research and in-depth evaluation online.
Like all marketing strategies, you can't just publish interactive content and expect it to pull in the big numbers. It needs to be:
something your audience will find interesting
relevant to their needs and goals in relation to your business
easy to access and use
measurable, to ensure it's working.
Start off with something simple, such as a quiz, white paper or calculator and expand from there.
It's a small, worthwhile investment with the potential to quickly double your conversions and separate you from the competition.
And if you need some help, or would like to find out more about what's possible, you can always interact with the Snap digital team.