Are your marketing brochures selling? Try these 9 proven tactics
Published: 20 June 2018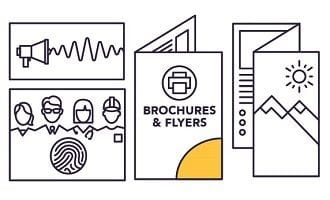 Whether you're promoting your business, product, service, event or deal, it's hard to go past a great marketing brochure for impact and return on investment.
While marketing trends come and go, brochures continue to bat above their weight because they:
are tactile: you can feel them
are long-life marketing tools: they are kept and passed to other
are personal: especially if received by hand or as personalised direct mail
get seen: sitting on display, arriving in the post, being handed out at events, etc
are sales stars: carrying valuable information pitched perfectly for the audience
are loved by finance departments: low cost in comparison with other marketing avenues and often far more effective.
However, you can't simply unleash a brochure into the wild and expect it to bring home the bacon.
Like all marketing strategies, brochure designed to promote and sell, need to be well prepared for the moment they're introduced to your audience. Otherwise, they can be quickly rejected.
Here are nine proven ways to get your brochure ready for that big first date.
Have a specific audience in mind
Before you lay mouse to design software or fingers to keyboard, it's important to be very clear about who your marketing brochure is for. You need to be able to answer questions such as:
What do they have in common? Is it age, buying cycle, income, location, or lifestyle choices?
Why would they want to buy your product? What's the problem they have?
What is the most important problem we can solve for them?
If you don't know the answers already go to the source, or those who know them best. Speak to your customers, sales team, customer service staff, etc.
Consider the rendezvous point
Where will your audience meet your brochure? Is it going to be sent via direct mail, at an event or at their office? Are they expecting it i.e. did they request it or have you spoken to them about it already?
Your design and the message may need to be different depending where the encounter your brochure and what they already know about you.=
Motivate readers to look inside
Just because you send or give someone your brochure doesn't mean they will read it. To grab attention and build curiosity, the front page needs a single clear message and, if appropriate, a compelling visual. Everything should compel people to turn the page.
Capture attention with a stunning finish
If you want to engage more than one of the senses, back up your engaging message with a unique stock or print finish that appeal to the eyes and touch.
There are plenty of affordable options these days, even for short print runs, so it's worth exploring different finishes such as:
Curious Opaque (tracing paper)
Gold Scodix or Rose Gold Foil typography
Matt Black stock
Silver Foil typography
embossing
varnishing.
Focus on benefits
Customers don't care so much about what you do as what you can do for them. This creates an emotional response. And people take action based on how they feel.
That's why it's so important to focus on the benefits of what you offer a customer before you tell them what it is or how it works.
The headlines and subheads in your brochure should highlight the 'what's in it for me' factor to hold their attention get people reading the body content.
Back up with features
Benefits are a great introduction to your product or service, but audiences still need some hard facts to justify buying. After you've mentioned the benefit, include some features that back up your big claim.
People like to skim read these days, so keep your features in bullet points rather than as paragraphs of detail that won't get read.
Add eye-catching visuals
You don't want to get too wordy in brochures. That makes unique, meaningful images or illustrations a great alternative to long descriptions. As the saying goes, they do tell a thousand words.
As a general rule, consider a image, icon, or illustration for:
each product offering
your front page
your 'about' and 'contact' sections.
Create plenty of white space
As with websites, people don't want print marketing material cluttered with information and images. You need to ensure your marketing brochure is easy to read and understand with a skim.
This means reducing the amount of content and number of the distractions along the way to your end goal reader action. So use:
lots of headings
bulletpoints
short sentences and paragraphs
plenty of 'air' white space
space between images.
Give your readers just enough information to pique their interest. Make your brochure first stop on the way to finding out more on the phone, on your website or at your store.
Call for action right now
After you've sold people how good your business would be for them, you need to prompt them to act. Don't just assume they'll look for your phone number and call, visit your website or drop in to your business.
Make the action that you want readers to take very clear on your brochure. More than that, urge them to act now while you are at top of mind. Otherwise they'll move on to something else and are likely to forget about you.
Consider offering them incentives that are only valid for a specific time such as:
special discounts
a free gift for purchases
rebates
guarantees
free-returns for 30 days.
If you don't want to offer a price related incentive, at least remind them to buy now because stocks are limited (if they really are) or the price will be increasing, etc.

Injecting some, if not all, of these tactics into your own marketing brochure will help you towards capture your target audience's attention, hold their interest and prompt them to get in touch.
And you don't even need to do the work.
Contact your local Snap Centre team who can plan, design, create and print a powerful marketing brochure for your next campaign.