Answer all with Live Chat
Published: 9 January 2017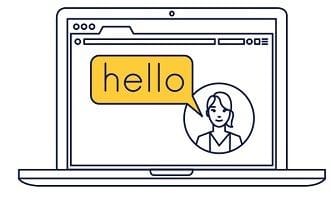 Live chat on your website: Why it helps you convert like crazy
Have you checked your Google Analytics website stats lately? Is there room for improvement?
Even if things are looking ok, wouldn't it be great if you could reduce the number in the Bounce column (people who jump in and out or just visit one page and leave) and increase the number in the Ave. Time On Page and Session Duration (time they spend on the whole site) columns?
Online, adults have the patience of a toddler
One downside of our fast-paced, tech-friendly world is how impatient we've all become. And nowhere bears the brunt more than humble business websites.
If someone lands on a site and can't find what they're after within a few seconds they'll disappear in a flash and find someone who will. They may stick around if they know your site and business is the only one that can help, but they'll still be having a tantrum on the inside.
Having great products, services or information isn't enough if people can't:
find it themselves using your navigation or on-site search engine
quickly get help completing their task.
Live chat the sales assistant just when you need them
Adding a Live Chat box to your website allows you to politely introduce yourself to your visitors and let them know you're there to answer questions and provide guidance they might need.
And if they don't need you at that moment, they can quickly close your box and carry on, confident that help from a real person is just a click away.
We use Live Chat on the Snap website and around 10% of our visitors engage with our live chat team. This makes it a powerful tool for building relationships and closing sales with new and repeat customers.
It's more convenient for customers
Finding contact details and trying to get hold of customer service on the phone often means long waits (and redirects). And who has time to wait for an email reply? With Live Chat, people can stay on the page they're interested in as they get help. It doesn't interrupt their search or purchase journey.
It delivers instant gratification
Live Chat provides website visitors with instant access to support staff and instant responses to their questions and problems. That means you're able to quench their needs or solve their problems on the spot. And as customers, that's all we really want.
It boosts your leads and sales
Live chat isn't just about answering questions so people can continue using your site. Chat staff can help customers complete a transaction.
Here at Snap, Live Chat has had a positive and growing impact on our conversions. In August this year Live Chat delivered 1,553 leads, up almost 50% from July.
It makes people like your business
Creating that one-on-one personal connection with someone who's all alone in a desert of pixels, is comforting and assuring. It shows that you care and understand that websites aren't always easy to navigate and use (even your brilliantly designed one!).
That sort of thing is all too rare online and goes a long way towards building loyalty, trust and future sales.
It's cost-effective customer service
Live Chat enables your staff to multitask and assist several visitors at once. You can make each person feel special while save on employee task time and phone expenses.
It gives you a jump on the competition
How many times have you stood in a shop desperately looking around for someone who can help, to no avail and then walked out the door in frustration?
And how many times have you bought something in a shop because the sales staff didn't pressure you, but were there when you wanted them, and incredibly helpful?
You get the picture.
It provides precious insight and feedback
You can learn a lot about your audience, how they tick, their problems and needs through Live Chat conversations. The questions they ask, feedback they provide and emotions they feel while on your site is invaluable research material. You can use this knowledge to improve your site, add impact to your marketing and boost your ranking for different keywords on Google.
Whether your web audience come to your site to learn about and buy products and services, or in search of information, Live Chat a powerful and cost-effective customer service and sales tool.
It can quickly help you build trust, increase leads and close sales.
Do you need help maximising your search engine optimisation? Contact your local Snap for details.