An introduction to Google Analytics
Published: 29 January 2013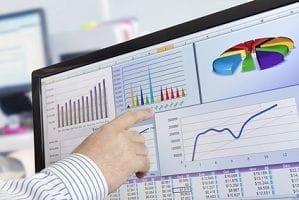 Invest some time in free Google analytics
Google Analytics can seem a bit daunting at first, but with a little research you'll soon find it's your greatest business ally in the quest for online success.
What is it?
Google Analytics is a free service that generates statistics about visits to your website. It not only tracks the number of unique visitors to your site, it also gives you more in-depth information about referrers, advertising, email marketing and more.
Key benefits
Measure marketing: Online marketing, advertising and SEO efforts can be easily measured. This means you can stop wasting money on what doesn't work and start spending where you're getting a return on investment.
Evaluate traffic flow: Identify periods of low traffic, discover which sections of your website are the most popular, find out how long people stay on your site and discover what's working and what isn't.
Optimise keywords: Find out which keywords are getting people on your site and start creating focused content to grow search traffic.
Improve your webpage quality: Discover when users are deserting your site (e.g. at the shopping cart) to hone in on which sections of your website could benefit from improved usability.
Identify your clients: With Analytics, you can discover which countries and cities your website visitors live in, which browser your visitors are using and how much mobile traffic you're receiving.
Track eCommerce: eCommerce tracking will help you quantify the value of a conversion, the profit margin of each sale and even the ROI of your online advertising campaigns.
Assess social media efforts: Google Analytics referrals will show you how much traffic you're getting from social, and how much of that traffic is making conversions.
If you're a small business with a website, Google Analytics will give you valuable insight into what's working and what's not. And given that the service is completely free, there's really no excuse not to get on board!
Contact your local Snap Centre to find out how we can help with your business website and marketing needs.