An essential guide to community building
Published: 18 December 2014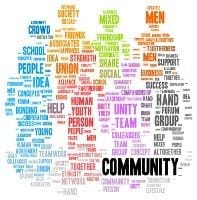 Building a community around your business is one of the most valuable things you can do for it but it's easier said than done.
Discover our top tips for creating a community from scratch or integrating a business into a pre-existing one.
Find ways to connect with the right communities
As a business owner, you should have a firm idea of the kind of demographic your business appeals to. Armed with this information, you can search for local associations, online forums and social media groups that are closely aligned with your products and services or those of your competitors. Once you have chosen a network to target, look for ways you could help them such as providing sponsorship, organising events or webinars, and offering mentoring opportunities.
Pay close attention to community values
Once you've identified the right communities, you need to find out how you can engage with them. By listening to the members, you can gain an understanding of the community's core values. You can then create your social media and marketing material accordingly so that it aligns with their interests. Rather than simply pitching your business ideas or promoting your services, offer real solutions to problems the community might be facing, and tap into their existing interests by producing content and information that will benefit them.
Base your community building on shared passions
By choosing the right communities and learning what makes them tick, you can ensure you have the same goals in mind. Authenticity should be your byword when it comes to community building if you connect with influential figures in the community because you genuinely share a passion, half the battle is already won.
Empower your community members
To grow the community and the member's investment in it, you must be willing to give them some control. Offer them the chance to guide the direction of the community by taking on board their ideas for events, future products and interesting projects. This kind of return on investment will make members more likely to contribute and also attract potential new members.
To find out more about creating content and marketing material that will engage with your community, contact your local Snap Centre.