A picture paints a thousand words
Published: 2 April 2012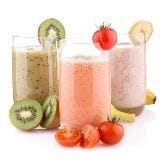 The power of visual appeal
When it comes to presenting your products in the best possible light, the phrase "A picture paints a thousand words" rings true. Recently I met the General Manager of a large harbourside caf/restaurant. The client caught my attention with something he mentioned about his menus.
For years we have been producing his menus in an A3 format, so there is plenty of room for descriptions and photos of their delicious cakes and sandwiches, piping hot coffees and milkshakes (that are 'to die for').
On the last menu run they took a new marketing direction and changed the menus to a smaller, easier to handle A4 format.
Many of the descriptions were shortened and photos were axed altogether. Analysis of sales figures compared to the previous year led to a startling revelation they had sold 100 less milkshakes that month because the pictures had been removed!
Even though the same amount of customers had been served, overall sales were down more than $7,000 versus the same period last year.
So if you have a business that relies on images and descriptions to sell your products and services, is your menu or promotional material doing your business justice? Have you considered that many of your customers may not know everything you do?
Sometimes they need to be led by the eye to the purchase!