A history of typeface
Published: 23 May 2013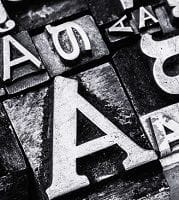 The often taken for granted, typefaces
We process hundreds of thousands of words every day, all of them visualised in fonts that have their own history, tone and attitude. Here we take a tour of Western typeface's biggest players.
1440
Johannes Gutenberg introduces moveable type printing, marking the true beginnings of modern typography. In 1455, he publishes the first volume of the Gutenberg Bible using an early Textura typeface.
1470
The original Roman font is developed in Venice, setting the standard for the majority of Western typefaces to come.
1499
The Aldino italic type appears with its distinctively condensed and slanted design. By 1527, a more superior italic font is developed by Ludovico Arrighi, inspiring future French italic types.
1540s
The French King Francis I decides he needs a unique typeface for a series of books. He commissions the Greek typeface, which is later adopted by the French Court for their printing.
Late 1700s
John Baskerville arrives on the scene with his exquisitely designed Baskerville Roman typeface. His typeface is distinguished by the lowercase 'g', which does not fully close.
Early 1800s
William Caslon IV introduces the clean, unfussy Sans Serif type.
1901
Copperplate Gothic is released by the American Type Founders and becomes the classic font seen etched into the doors of banks, restaurants and lawyers' offices.
1927
The all-capitals Broadway typeface becomes the symbolic font of the Art Deco era.
1967
The New York Times adopts Imperial as its preferred font.
1982
Arial (and its 20 different variations) is developed for Monotype Typography.
2004
The Facebook logo takes on the world with a modified version of Klavika Bold.
Looking for expert design advice?
Contact Snap
to find out about our professional print and design services.