A guide to creating your ultimate buyer profile
Published: 25 March 2014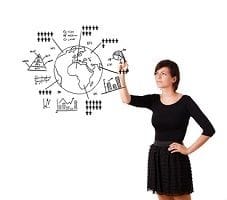 Do you want to attract new clients, generate more sales leads and keep your existing clients coming back?
Then developing a buyer profile should be at the top of your to-do list. This target market analysis will help guide your business towards sales and success.
What is a buyer profile?
A buyer profile is a complete overview of your ideal buyer. While this could be as basic as identifying age demographic, gender and reason for looking to your brand for a solution, the ultimate buyer profile should go deeper, covering things such as what they do in their spare time, whether they have children, socioeconomic status and level of education.
Why do I need a buyer profile?
Although spending a good portion of your time discussing whether your pretend buyer goes to the gym or indulges in brunch on a Sunday may seem a little contrary to your business goals, the truth is that having this ultimate buyer profile will help you understand your target market. It will help you put together more meaningful and successful marketing messages, develop new products or services, and ultimately will help you secure not just new clients, but the right kind of new clients.
How do I create my ultimate buyer profile?
Start by sitting down with your team and make it a group effort to brainstorm who your buyer might be. It's a good idea to start with the basics (gender and age) before getting into the nitty-gritty.
After this initial meeting, gather all the information together and refine it down until you have some clear buyer profile characteristics in place. Hold another meeting with your staff and workshop what has been developed into a buyer profile that everyone feels represents the business. Having a clear buyer profile in place will help your business deliver the kind of clear, concise messages that land sales.
Contact your local Snap Centre to find out how we can help market your business.