A checklist for overhauling your brand identity
Published: 8 November 2012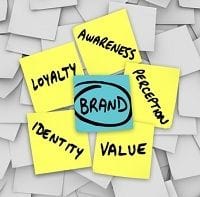 Your brand identity is the visual representation of your business across all mediums.
These visual elements may include your logo, colour palette, typography, unique style and imagery anything that audiences might see that's connected to your brand. This brand identity is communicated with audiences continually through visual channels such as websites, stationery, uniforms, packaging and signage to establish brand familiarity.
When is the time right to change?
When considering an overhaul of your
brand identity,
it's important to consider the reasons for the change and what you wish to achieve from it:
How old is your current brand identity?
Does it represent your business accurately as it functions today?
Has it been outgrown by the business?
Does it remain distinctive and memorable in the marketplace?
Does it serve its purpose?
Does it create an emotional connection with audiences?
It's important to remember that while your brand identity may have been created years ago, that same identity will have built up brand equity in that time. You may decide on a complete overhaul if the business has changed drastically, or opt for a simple refresh that retains elements of the original concepts and colours so your clients remember you.
How to approach an overhaul
Define your business missions, promises, personality and values know who you are and what you do.
Define who your client base is and target markets are understand what appeals to them.
Ensure you have the approval and cooperation of all principal decision-makers in the organisation.
Make a list of all visual channels that will need to be changed to ensure consistency across your brand identity.
Consider any plans to add new visual channels in the future.
Consult a professional to assist you with the process that can work across all mediums as required.
Allocate a budget appropriate to the size and scope of the project to avoid any problems later.
Contact Snap today to find out how we can help you refresh or recreate your business brand identity.