9 ways to improve your networking skills
Published: 18 March 2019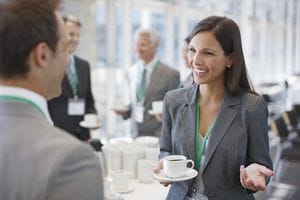 Networking is one of the most valuable tools in business. It can help you expand your business connections and open doors to previously unreachable opportunities. Whether you're broadening your network for professional or personal reasons, there are a few things you can do to help increase your chances of forging new and potentially lucrative relationships. Here are our top nine tips.
1. Be prepared
Before attending a networking event, look into who else could be there. This will give you a better idea of who you'd most like to meet and allow you to do some background research beforehand. Having a few talking points and questions handy will help you break the ice and undoubtedly impress your conversation partners. However, make sure it comes across as effortless and natural or your new acquaintance might start getting uncomfortable.
2. Be authentic
'Fake it till you make it' is not a philosophy you should follow at a networking event. If your interest isn't genuine, people are likely to sense it. So, always try to be yourself and strive for authentic conversations. If you are sincere, other people will likely be more interested in engaging will you.
3. Be approachable
If there is ever an event where you need to be approachable, it's at a networking event. After all, the whole purpose of it is to engage with others and form new connections. If your body language doesn't reflect that, people will be less likely to approach you.
Try to relax and smile as you work the room and when you interact with people. It's also a good idea to check your body language every now and again. Gestures such as crossing your arms in front of your chest can signal to others that you're not interested in making contact.
4. Listen
Taking the time to listen and learn from the people you meet and your conversations is a key strategy when networking. The more you pay attention to what others have to say, the sooner you'll learn what you need to know in order to establish fruitful relationships. Listening is also crucial when joining in on group conversations. After you've listened for a while, acknowledge a key point of the conversation and then start adding to the discussion yourself. This will show your new acquaintances that you're respectful and you're paying attention.
5. Share, don't sell
When trying to make new professional connections, it's better to leave your sales pitch at the door. Talking too much about yourself and your business can be unappealing and make people question your intentions. However, sharing business-related information that's relevant to the topic of conversation can actually help your case as long as it's done in a casual and conversational way.
6. Bring a friend
Believe it or not, bringing a friend can sometimes come in handy at a networking event. Similarly, like when dating, you can act as each other's 'wingmen'. Rather than simply boasting about yourself and your work, you can talk each other up. Your friend may even have some connections there you don't know yet.
7. Be open to collaborate
People attending networking events are usually there for the same reason: to explore new opportunities. That's why it's important to be open to not only seeking contacts for your own purposes, but to return the favour. Whether that's offering to introduce your new connection to one of your contacts or just forwarding them a link to an interesting article, supportive gestures like these will help build trust early on in your relationship.
8. Set intentions
Networking events can be intimidating, so if approaching new people is something you tend to struggle with, perhaps try and set yourself intentions for the evening ahead. You could, for example, aim to talk to a certain number of people.
It can also help to arrive early to the event, as there will be fewer people around that haven't settled into groups yet. What's more, if you're one of the first to arrive, people entering after you will probably come over to introduce themselves. This way, you may not have to make the first move.
9. Always follow up
Always remember that the purpose of networking is to create new relationships, which need to be nourished in order to grow. So, if you've had a good exchange with someone, ask them for the best way to stay in touch. Some people may hand over their business card, others may prefer social networks like Facebook or LinkedIn.
Then make sure to follow up with them after the event. A brief note thanking them for an insightful chat can do the job. From there on out, it's about keeping the relationship alive.
Networking and making new connections can seem daunting and overwhelming at times, but with a little preparation and patience it can truly work wonders for your personal life and your career as long as you remember to stay true to yourself.