8 steps to creating an affordable & effective business website fast - when you're not a web designer
Published: 13 March 2017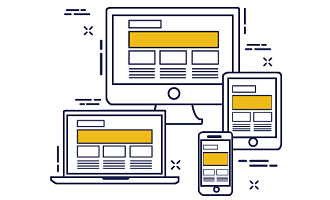 Whether your business is selling products or services through an e-commerce store, street front shop, from the spare room at home or your top floor office in the CBD, one thing is guaranteed...
Your website has less time to impress than Usain Bolt travelling 1m
According to research at Carleton University in Ottawa, people make an initial judgement on websites within 1/20th of a second of arriving (that's actually around 20cm in Bolt-sprint time, but who's counting?).
That's a scary thought
If you're thinking about creating a new (or first) business website this is something to keep in mind. It means your site needs to make a good first impression, or potential customers will leave before you have time to let them know how perfect you'd be together.
So sites that are dated, poorly-designed, slow to load and/or don't look good on mobile devices are in trouble.
But here's a happy thought
You don't need to fork out tens of thousands of dollars to have a website designed, built and launched that looks good on the eye, displays your expertise, captures leads, builds trust and reaps profits.
And, you don't need to be a web designer either.
Here are eight things you need to make your business website a success. Whether you get expert help with all of them, or just a few, depends on your budget, knowledge, patience and need for speed to market:
1. Reputable hosting account
Your website needs to sit somewhere for it to exist and hosting is that storage centre for your website. To ensure your website stays up and running smoothly, check that your host has good storage capacity, control, service, technical knowledge, server speed, and reliability.
2. Website Design
Web development: May or may not be the same person as the web designer. This is the sea of gobbygook code that goes into building your site to your unique needs. It includes everything from layout to features and functions on the webpage.

Visual appeal: As we learnt from those impatient Canadians, looks do count when it comes to website appeal. Images, space, layout and more come in to play here.

Colour palette: The colours you choose can impact how people feel when they're on your site. You, or your designer, also need to consider your industry niche, target audience, and branding.

Clear fonts: Go for contemporary looking sans serif fonts without decorative finishes that are easier to read online. Choose the ideal font size and stick to a maximum of three typefaces to keep your design streamlined.

Navigable: Make your website easy for visitors to wander through, find information and take action on. Plan your site navigation up front from the audience's point of view and needs. And make sure the titles are easy to understand.

Architecture: Similar to the navigation, organise the content and flow of your website to support the level of knowledge, needs and tasks that your audience want to perform.
3. Content management system
Your CMS is like going backstage at a concert. It's where you create and manage your digital content. Be sure to use a CMS that allows you to update your website without knowledge of coding or advanced design principles.
4. Content matters
It's not enough to just copy and paste words from print, or put any old text up on your site and hope visitors will want to do business with you. Your content must be well-written, easy-to-read, original and helpful to your audience.
This doesn't mean you need to be pumping out Shakespearean quality work, or pages of business jargon. Just imagine you are having a one-on-one conversation with your perfect customer and write like that sounds.
5. SEO (Google) friendly
Google search accounts for something like 70% of traffic to most websites. Especially new ones. So you need to make sure your website does all the right things to get ranked when people go searching online.
This includes everything from easy-to-use design and navigation to the words you put on your pages, to page load time, mobile-friendliness and more.
6. Responsive design
Online customers are going to look at your website on desktop computers, laptops, tablets, and phones. It's important to that your site looks good and works well on all these devices. Otherwise, people will leave your site in frustration and Google will lower you in search rankings. Many Snap clients have seen immediate boost to visits, enquiries and sales by moving to a mobile responsive site.
7. Multiple browser compatibility
As technology progresses, the number of internet browsers grows. When creating a website, it's vital to ensure that your website should load properly on Chrome, Firefox, Microsoft Edge and even older ones like Internet Explorer.
8. Announce your new baby to the world
it takes time and effort for your site to rank high on Google. So you need to promote it wherever you get the chance. Put your website address on your email signature, business cards, letterheads, social media profiles and everywhere else your customers are likely to see it.
These eight steps will help you quickly design and launch an affordable, effective business website.
And if you need some professional help with everything from hosting, CMS and design all the way through to SEO, launch and beyond without the usual agency price tag - talk to the Snap Digital Marketing team today.