7 ways to cross-promote your print and web marketing
Published: 3 September 2018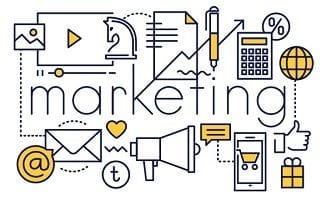 What's one of the most common ways SMEs blow their hard-earned marketing budgets?
By missing out on helping the majority of customers who now want to connect with companies both online and offline.
The main issue isn't that SMEs don't offer both. It's that they don't let their customers know. And as a result, people are switching to businesses that clearly offer the best of both worlds.
How are customers doing business both ways?
For example, someone might find a business on the web and then visit in-store. Or see a print ad, visit the website on a desktop during the day and then want to finish a transaction on their phone later that night.
This is why cross-device marketing on phones, desktops and laptops is becoming so important. While, at the same time, making sure your print and web marketing works together for the greater good i.e. making your clients happy and your business a success.
Here are eight ways to build a well-oiled online and offline marketing strategy.
Remind customers that your website is open 24hrs
If have a physical business, promote that your website is always open for business on your shop front, office window or hours of opening.
Advertise your online channels on your phone message
While you don't want to keep customers on hold for long, make the most of those precious seconds of ear time. Mention your website address, social pages and other online assets in your recorded messages.
Promote your business and brand on social media
Post photos of uniforms, signage, your shop, etc on your social pages. Ideally, make them part of a bigger story rather than just blatant advertising. For example, introducing staff members, announcing a great new deal or helping a customer.
Include web and social details on your offline marketing
Print marketing can often be your most effective form of promotion. Not only do people pay attention to great print marketing, they keep it around - especially direct mail, business cards, brochures and promotional calendars.
Whether its advertising or any form of print marketing, take advantage of the real estate and let the people know about your online business channels too.
Show TV and print campaigns through social and on your site
Consistency is a key to marketing offline and online. Part of that is ensuring your audience see the same messages through both channels.
If you run TV and print campaigns be sure to highlight them on your Facebook, LinkedIn and other social channels. That way followers start to associate those marketing strategies with their social interactions.
At Snap, we regularly promote our own print campaigns on social media and drive people back to our website and Snap Centres.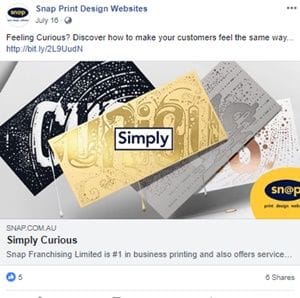 Keep your staff updated
It's one thing to promote your print marketing online and your web marketing offline. But if your staff aren't aware of what's happening, it can make them look silly when customers ask.
Make sure your in-store and office staff know what's being marketed on your website, social posts and emails. And ensure your online team are aware of your print and other offline marketing campaigns and messages.
Follow the same rules
Customers don't want to know about technicalities. As far as they are concerned, your web and real-world businesses are the same thing. So, offer the same customer policies, payment options and processes through online and offline.

As a 21st century business in an impatient world, your goal is to make doing business with you as quick, easy and logical as possible - whether people connect with you in print, online or face-to-face. That comes down to great service.
A big part of delivering that great service is to provide staff and customers as many ways as possible to connect, build relationships and transact.
These seven marketing tactics are simple, cost-effective ways to help you achieve this and take you a step ahead of the competition.