7 things you need to do to get rich in business
Published: 4 May 2017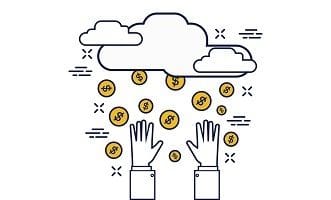 While many people don't believe money makes you as 'rich' as happiness, health or a loving family can, there's no doubt that financial wealth is a key goal for many business people.
The 1960s 'richest man alive', J Paul Getty, once said, "Money isn't everything, but it sure keeps you in touch with your children." But no-one summed it up quite as perfectly as Cuba Washington Jnr when he told his couch-jumping sports manager, "Show me the money!"
How to be in the money
Whatever you picture as financially rich and however you plan to enjoy that wealth - here are seven strategies that have helped some of the world's most successful business people climb the money tree. They can help you too.
1. Have a goal and work towards it
Picture a specific end result, how you will get there and how long it will take. Then create a timeline and stick it on the wall. Whether it's a revenue goal, profit, or even a customer acquisition target, draw up your plan. For example, to build and sell your business for $8 million within 5 years.
2. Step out and stay out of your comfort zone
No-one ever got rich comfortably rolling along without taking risks and accepting challenges that sometimes feel uncomfortable. Whether you want to succeed in business or reach your wealth goal another way, you should take on opportunities that you fear you could fail at.
Warren Buffett was so terrified of public speaking that he avoided classes at university where he might have to get up in front of people. He even enrolled in a public speaking course and dropped out before it started. He finally booked another course with 30 other public speaking neurotics, attended and passed.
Public communication has since played a huge role in helping him accumulate his $70 billion personal wealth.
3. Never stop learning
Walking into a new world means being smart and getting educated enough to take on situations. No matter what your degree or experience, there will always be people with new experiences, knowledge and skills to learn from. So join an online course in business, attend seminars and webinars, and find a mentor.
4. Look for other opportunities to increase your income
Money doesn't often come easily in the early days. You may need to find avenues to generate additional income to keep yourself and your venture alive.
If so, think about where your talent and resources can come in handy to raise those extra funds. Try to find something that won't keep you away from your office. For example an online business or teaching online. Or something that you can do outside regular business hours that won't be too draining, such as driving for Uber.
5. Change your lifestyle
We hate to say it but, big gains rarely comes without a bit of pain. So before you walk in to that Ferrari dealership with a suitcase full of cash, you'll probably need to examine your current lifestyle and see where you can make sacrifices to save cash.
Cut down on expenses that are frivolous and avoidable. For example:
pack your lunch instead of getting takeaway or eating out (yes, smashed avocado, we're looking at you)
cut down on nights out and dinners (have friends over instead)
walk, cycle or take public transport to work instead of driving
use cash instead of credit cards or loans
stick to an essential expenditure list.
6. Embrace a compulsory saving culture
This goes hand in hand with the point above. Get out of the habit of spending and into the habit of saving.
With added income avenues and reduced spending, the pain of missing out on instant gratification spending will soon be replaced by the high of watching your bank balance numbers soar.
And if you're also paying a mortgage, you may even sleep better not having to worry about whether you can meet your repayments this month.
Create a budget, invest safely and put your money away before any spending.
7. Surround yourself with successful people
Education can put you in good stead for starting a business, but the experience in building your own business is like a real-life master's degree. It also comes down to your 'classmates and tutors' - the people you surround yourselves with.
Even if you're not naturally a 'people person' attend business groups, business leaders meetings until you find one you're comfortable in.
Start your own entrepreneurs group in an area where you could address a problem that's not being solved. It may take a little time, but you'll thrive once you find your kind of people.
Whether its business partners or employees, surround yourself with people who have skills that you can't match and who can contribute to the success of your business and growth. Success rubs off!
These strategies can go a long way to helping can make your wealth dreams real even in an age when there are so many other financial commitments outside work.
Once you start, you'll see how these everyday practices make big differences. Talk to your local Snap Centre to find out more.