7 Simple Christmas ideas that win customer's hearts and dollars
Published: 5 October 2017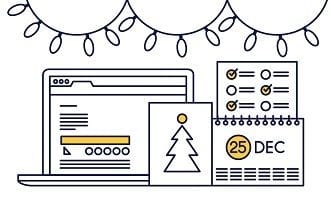 We know what you're thinking. It can't really be that time of year again can it? Somehow it is. So if the festive season is important for business and thanking valued clients, now is the time to get your name in front of the people who matter most before the competition does.

Here are seven simple and effective ideas to consider putting in your business Santa sack this year:
Custom-made Christmas cards

A guaranteed way to put a smile on client's faces is with a card that has their name and/or a personalised message printed on it. While e-cards can be fun, custom Christmas cards have a far greater impact because they are tactile (feeling them impacts the brain positively) and valued (printing and sending shows that you care).

In-the-flesh personalised cards also create a more emotional response. And research shows people trust and buy more from you when you connect with them emotionally, as humans, rather than buyers.

Gift certificates

Few things help your business sparkle like a ball-ball more than deals, packages and discounts. For instance, if you are a florist, you can offer a first-time customer free delivery or extra flowers for the same price, referral discounts, and a festival discount for a limited time.

Whatever your business, there are ways to attract shoppers looking for something to buy. The important thing is to understand what will work best with your audience.

Festive gift baskets

One of the joys of Christmas is its traditions. Be it carols by candlelight, turkey (or seafood on the beach) or a thoughtful basket of goodies. People understand that gift budgets are smaller these days, so receiving something like this sends a message of how important they are to you.

You can even customise special packaging to include your company's logo. Another idea is to offer a basket as a special gift for purchases over a certain amount.

Promotions and competitions

While people are completely ok with businesses making money at Christmas, they're over the hard core sales pitch. So by all means run a promotion or competition. But be sure to think about how it can improve your customer's shopping experience instead of just increasing your bottom line. For example:.
a website landing page with specials that are easy to scan, search and group
complimentary products to something they've purchased
free gift-wrapping or free shipping
12 days of Xmas giveaways
a special Christmas Eve Frenzy sale day (for the unorganised).
Change your timeline cover photos
Your social media account can be a powerful ally during the festive season. Make changes on your social media pages and website to get into the spirit of Christmas. Create something with the festive mood and add a 'call to action' button.
You could do something fun and make it snow or have Santa greet clients when they visit your website. With permission you could even include photos of happy customers in your timelines and posts.

Branded New Year calendars

A personalised branded calendar (carrying your logo and company name) gives you an opportunity to give a customer a gift that keeps you in mind every day of 2018 as well. You can do all sorts of great customisation, such as including client photos, important dates and their logo too.

Creative Christmas flyers

Flyers are a great way to promote products, advertise Christmas events or tempt people with special deals and discounts. Plus, they're incredibly cost-effective, easy to distribute and proven to be one of the highest converting promotional pieces available.

These simple, creative and practical ideas can really help you make the most out of the coming festive season.

Before you find yourself more snowed under than Santa's helpers, start planning your Christmas marketing, business development and promotional strategy now. You can always call on your local Snap Centre for a wide range of expert creative Christmas help, in print and online.