7 red hot brochure design trends set to light up 2019
Published: 17 October 2018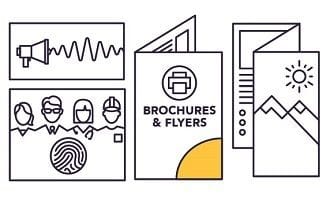 The new year is approaching fast. And with 2019 comes fresh marketing campaigns, product launches, sales and more. Chances are, you'll need a brochure for that.
But how will you cut through the thousands of everyday distractions and competitive messages to get your brochure into the hot little hands and minds of your target audience?
Today, we're spilling the soybeans on seven brochure design trends destined to capture attention and business in the final year of our teens.
Eclectic typography
These days, everyone in the marketing team needs traffic-stopping skills, including typography. To help fonts do their bit at grabbing attention, we're likely to see:
unusual chaotic design and text-play
brands customising their own typography
bold typefaces
different fonts for the headings, sub-headings and body text
coloured and vector (outline) fonts.
Vivid splashes of colour
Colour is going to replace much of the solid monotone design in an array of forms, such as:
bright and vibrant colours
gradients and patterns
juxtaposition of vibrant and saturated colours
dusty pastels
galactic effects - violets and deep blues.
Retro illustrations and natural photography
Images are vital elements in brochures. However, the days of perfectly styled and photoshopped library shots that have little emotional or sentimental quality, are over.
People want to be able to imagine themselves in a situation, or have an emotional attachment to the business, product or service.
For this reason, 2019 will see:
more natural looking library shots
real photography from the business (of people, customers, products etc).
Other graphics can also achieve this connection with customers and enhance the brand through:
illustrations of products, services or what the business does
animated retro designs that add depth to flat illustrations
old school duotone graphics.
Outside the box design
Brochures, flyers, websites - and just about anything else being created for marketing needs are usually designed in a grid style.
The idea being that people feel more comfortable and open to listening (or reading, or watching) when they don't have to work to understand things.
However, designers feel that 2019 is the year to break out of the box and give the people something to get curious and excited about. This could mean:
information not where you would expect it to be
more creative layouts that take people on a journey of content discovery
more experimentation on both inner pages and covers.
While it's important to try new ways to stand out and capture attention, you need to be careful when 'messing with the grid'.
Be sure to test your idea on a few people first.
And remember, just like with music, younger people are more likely to be open to a brochure that doesn't conform to society than older audiences are.
3D brochures and effects
In the age of virtual reality and immersive marketing, designers are looking for ways to take traditional promotional pieces into the future.
While 3D is not new technology, it still offers a unique and unexpected experience for the human mind. We can't help but be fascinated by something that has depth or appears to.
And with the advent of 3D printers that can create almost anything imaginable, just the mention of this acronym is enough to get attention.
For this reason, 3D is set to become a brochure trend in 2019. This includes:
colours and illustrations that give the illusion of depth
digital brochures (and other documents) with 3D page turning effects
pop-up brochures (real estate, travel, prize draws, interior design, kids and more)
Unusual print finishes and stocks
Sometimes it's the finishing touches that make all the difference because many businesses and graphic designers overlook these details, or are unaware of what's available.
In 2019, designers will use unique and cost-effective print finishes and stocks as part of the brochure experience to capture attention and create a perception of high-end quality without the expense.
Examples include text, logos or images:
floating on the paper surface like honey drops
shimmering under reflections off lights
glittering in luxurious gold or silver, elevated from the surface on sparkly white stock
printed in white font on sleek matt black stock
It's a simple way to fire up the minds of your busy target audience - and increase the impact and performance of your brochure.
Hand-drawn elements
People are nostalgic for the good ole days even if they were born in the busy new days.
Maybe it's a yearning for simplicity, something that feels more real, a personal touch. Or perhaps, the grass just seemed greener way back when.
The idea of old school being cool gave birth to the hipster. And from there, a generation of bars, restaurants, products and services was born (or rebirthed).
In 2019, brochures will continue to bring back the artesian approach to design through:
handwritten letters and hand-drawn images
illustrations created with styluses on tablets and laptops
illustrations over photographs
detailed vintage art elements
Well designed, targeted and printed brochures will always be powerful and cost-effective marketing tools for building brand reputation, leads and sales.
But first, you need to get them into your audience's hands and keep them there. Working some of these hot design trends into your marketing brochure could be the answer.
If you'd like to know more about any of these or other brochure design ideas, talk to the experts at your local Snap Centre today.
Author:
Snap Franchising Ltd