6 sure-fire ways to get more quality email subscribers
Published: 12 July 2017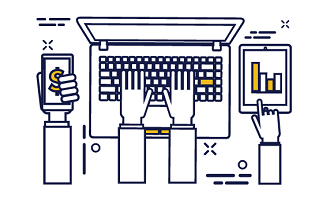 Every business would like a bigger email subscriber list. And why not? Email is one of the most effective ways to connect with, and sell to, customers.
Plus, if Google and every social media platform suddenly closed tomorrow (or started charging big rent for your business to appear), it's comforting to know that you'll still be able to contact your inbox posse with the click of a 'Send' button.
But it's not about the size of your list
More important than a long list of subscribers is a high percentage of quality prospects and active customers.
It makes better business and financial sense to talk to 1000 people who are keen to open your emails than 10,000 who aren't interested, or there anymore.
Of course, you should clean your list on a regular basis to flush out old addresses and people that aren't serious buyers. But the answer to email marketing nirvana lies way back at the beginning
In other words, you can get better subscribers by choosing the right times and places to invite people to benefit from your emails.
Below are six powerful ways to transform your kind of people from visitors into subscribers.
Add a sign-button to social media pages
Facebook, Twitter and co are popular gateways to starting strong business relationships. So it makes sense to have strategically placed email sign-up options in these channels inviting people to hear more from you.
With Facebook you can add call to action sign-up buttons on your page in the cover image. You can also post your newsletter on your page to show people what they are missing out on. And if you host an event on Facebook you can collect emails during registration.
You could also add a link to your Twitter bio to promote your email list that directs your customers to your main website opt in box or a specific landing page.
Subscription box at the end of your blog article
If you're creating helpful blog posts, add a join box at the end of each article as a call to action. This is the time when people will be hungrier than ever to get more advice from you, and open to the idea of messages from your business regularly popping up in their inbox.
If you can track where people join on your site it can help you create sub lists for relevant information products like e-books, products, or services you provide.
Add opt-in link to your email signature
Every time you send out an email you have an opportunity to build your list. Simply add a link in your regular email signature that takes people to an opt-in landing page.
Entice people with a 'first stage'offer
Most of us get too many emails as it is. So it's helpful to give people a compelling reason to sign up.
At the same time, you don't want to be making offers that encourage the kind of people you're not interested in. People who are unlikely to become long-term, profit-building clients.
So be careful with discounts and free offers, unless your giveaway is an appetiser for something they'll want to more of.
For example, you could give away some helpful advice in an article, but leave the super valuable bonus tips behind a sign-up. Or promise something even bigger for members only.
You could give a coupon, sample or discount, provided you know that people will need to come back and buy more to get full or lasting results.
This tactic can work well using subtle posts with links on your social pages.
A well-designed exit pop-up
Imagine someone stumbles onto your blog from Google search or social media to read an article of interest. More than likely they're leave straight afterwards, without clicking around to learn more about your business.
This is where an exit pop-up can work wonders. As someone leaves your site, an exit pop-up asks them if they'd like to join your newsletter to get more helpful articles like the one they've been reading.
Some sites do this for every person who exits. That can be annoying. We'd suggest only presenting the exit-box to people who spend a little time on the page and scroll down at least one page.
How do you do this? There are tools to create these pop-ups that can also work out how long and where people have been reading.3
Create a dedicated email subscriber landing page
Rather than just plonk a box on your website and hope for the best when someone arrives from social pages and other sources, test out a dedicated email subscriber page on your site.
This can be a deal closer, especially if you have different audiences coming from different sources, as you can tailor content on several sign-up landing pages.
On these pages you can talk about the benefits of your email, the kind of content they'll receive, even show off some testimonials and samples.
The key to building an email list of high quality subscribers, is all about where and when you present the offer. And making sure that people feel you're not just asking them to sign up for more inbox content, but helpful information, advice and offers they can't get anywhere else.