6 direct mail tactics that skyrocket customer curiosity
Published: 8 October 2018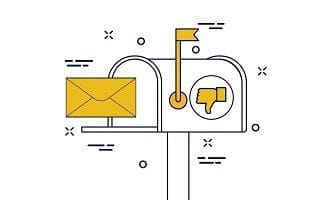 The survey votes from SMEs are in. And they tell us a similar story about direct mail that they've been sharing for the past three years.
Despite all the fawning over online marketing, direct mail:
response rates are now at their highest in a decade
drives higher return on investment than any other marketing channel
attracts more leads than social media and Google ads
But, as when using any marketing channel, gaining good DM response rates requires business smarts and a spoonful of psychology.
Here are five ways to heighten your prospect's curiosity and boost the profitability of your direct mail campaigns whether you're sending a newsletter, brochure, letter, postcard or other promotional material.
Get creative with the envelope
Are you still sending your direct mail in regular white envelopes with printed addresses like everyone else?
Unless your happy risking your mail piece being absently slipped into the middle of the pile where it might be read later, get creative and test some outside the (letter) box ideas.
Experiment with a different shape, size, texture or colour. Go for multiple folds or creative die-cuts.
Your goal is to make sure your first impression stands out. You want your subscribers' eyes to widen as soon as they check for mail and see your envelope reclining confidently in the crowd.
Make it lumpy
Remember the excitement you had as a kid receiving an odd shaped birthday present or Christmas gift? Feeling it, shaking it and trying to work out what it could be?
That desire and curiosity to know 'what's inside the box' never leaves us.
So, look for ways to capture attention by providing something more substantial than just a piece of paper.
Promotional pens, keychains, coasters embossed with your logo, or any item that connects to your brand can make it impossible to resist tearing open your envelope.
Bigger is also better when it comes to response rates. Oversized envelopes average 37% while regular envelopes are a very impressive, but still well in second place, 29%.
Be personal
The best way to capture and hold someone's attention is to address them by their name or create something especially for them.
Research shows that personalised direct mail response rates are:
times better than online channels
up to 15 times higher than traditional mass mailing methods.
Why? People who receive it say they feel more valued.
So add a name and make people feel as though they matter.
Include a freebie
We all love giveaways.
Sending samples in your direct mail not only introduces prospects to your product, it could be the start of a beautiful friendship too. When we give something for free, it triggers a response in the receiver's mind that they 'owe' you.
Free samples leave a lasting impression that requires payback in some way often in doing business with you now or down the track. So, consider offering free samples and a discount deal.
Stick on a real stamp
Postage stamps bring an element of credibility. Upon first glance it helps build trust which, in turn, leads to greater open rates and better response rates.
High volume stamp solutions like post-office metered stamps are easier to execute, but lack a personal touch.
An old school stamp says that your mail has come from a real person, and not a machine or faceless company.
It may not always be practical, but on short run jobs, worth testing.
Add a unique print finish
Imagine the impact of an envelope that shimmers or glitters as someone pulls it out of the mailbox. Or as they open your direct mail piece inside at night under the lights in their home.
In this day and age, you need to stand out from the norm quickly without sacrificing the quality of your brand.
Beautiful, affordable and unique print finishes make it possible to embellish your envelope, flyer, brochure, letter or other direct mail piece with compelling text or graphics.
Natural curiosity means customers find these unusual print finishes very difficult to ignore. Some will even spend time looking at the finish wondering how it was done. They are quite hypnotic.
You could also add a peek-through window to your envelope that gives a glimpse of a colour photograph of your product, or the print finish inside.
On the back flap, you could also include an enticing call-to-action message in a quality print finish.
A direct mail campaign can increase your leads, sales and ROI better than almost any other marketing channel. But that can't happen unless your mail captures attention, builds curiosity and encourages action.
If you'd like some help designing, creating and executing a direct mail campaign, your local Snap Centre experts can help.