5 ways to turn price objections into closed sales
Published: 12 October 2017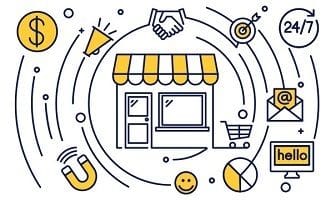 You're talking to a customer. Making an impressively convincing case for your product or service. They're asking questions, nodding and looking you in the eye. Good signs. So you start to close the sale. And that's when they reply, "I like it, but not at that price"
Having to field objections to a quoted price can feel like a downer when you believe like you've done all the hard work for a fair sale.
The good news is that you've got a warm lead
Chilli hot in fact. You know the person is interested. Now, they either really feel the price is too high or are trying their luck to see what you might go down to.
Either way, play your cards right and you've got a great opportunity to strike a deal that you're both happy with. Here is a look at five ways to counter price objections and handle the situation confidently without losing the sale or your shorts.
Assess objections dispassionately
Start with the obvious premise that the buyer has nothing against you personally. Sometimes they're just fishing. But more often, they're seeking a validation of their decision.
Don't take offence or feel the need to defensively justify your product or service. If you believe the price is fair, calmly state a case for your costing.
If they still want a discount, probe to fully understand their needs and expectations and use one or more of the following tactics.
Tailor the product to the buyer's expected price
Get a clear understanding as to how serious your prospect is. It may be that they just don't need a product or service as high end or with so many feature, etc.
If that's the case, see if you can simplify the specifications and tailor your offer to their needs and budget. It's a great way to be able to offer a lower price without cutting quality.
Rework the price terms from the ground up
If your buyer has issues with available cash, rather than the number of inclusions, look at alternative ways for them to pay.
Can you restructure the pricing terms from an outright payment to:
an instalment basis?
a bulk order over time at a lower cost?
This option could move your inventory, increase your revenue and keep your customer happy too.
Create a powerful value proposition
Underplay the negotiation angle and draw your buyer into a discussion about the value they're getting. This is best done by:
talking clearly about the benefits
linking the benefits to the buyer's real-world needs and problems
focusing on the ROI in monetary terms
comparing it to a competitor's offering (as long as your product offers greater value or is cheaper).
Add additional value without reducing the price
Many times, people baulk at the cost because they worry about being duped and feeling foolish. If you need to build trust in a buyer, it may be worth offering them a:
free trial
money-back guarantee
extended warranty
the chance to speak with other happy, similar customers.
Try to think of price objections as part of the sales process, rather than a barrier to a sale. If someone is genuinely interested and fair, blending these techniques with a friendly manner will go a long way to getting you a deal.
At the same time, don't be afraid to walk away if a prospect keeps haggling on price. If you believe you've offered a fair deal, confidently stand your ground.
You're not in business to lose money. Plus, it's often those serial hagglers you'll find knocking on your door later, keen to take your offer.