5 ways to personalise your customer service
Published: 12 November 2018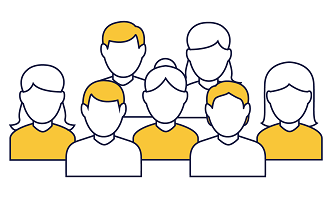 In today's digital marketplace, it can sometimes seem as though personal interactions have taken a back seat. The reality however is that, as more brands embrace purely digital storefronts, the need for more personalised customer experiences grows. Here are five ways to take your customer service game from average to excellent.
The power of personalised customer service
Personalising your customer service can help you to form closer, longer lasting bonds with new and existing customers. It allows you to leverage a particular customer's likes or dislikes or prior behaviours to better anticipate their needs and build interactions around the things that excite them most. Creating these personal experiences will demonstrate to your customer's that you truly listen and care about their wants and needs. Here are a few simple things you can do to get started.
1. Memorise their names
Personalisation starts and ends with people. So, it's important to view your customers not as a cluster, but as individuals. Do your best to address them by name in every interaction. It will make them appreciated and, at the same time, help to validate why they chose your services to begin with, contributing to an overall positive service experience.
2. Offer one-on-one service
As a customer, being transferred to various departments in the process of resolving a query creates barriers that can quickly become frustrating. Assigning specific staff members to key clients and training them to provide one-on-one service instead can lead to improved customer experiences. Equally, your customer will appreciate the convenience of having the same contact person at all times.
3. Record your customer's history
Recording each client interaction, including purchases, enquiries and any behavioural data (e.g. personal preferences, buying habits and product usage), will help you create a detailed customer profile. This will give you a thorough understanding of who your customer is, what they like and what makes them tick. You can then use this information to tailor your conversations, depending on their individual circumstances. Customer relationship management (CRM) tools, such as HubSpot, can help to streamline this process.
4. Use multiple service channels
Personalised service also means being available whenever you're needed. Offering support from various channels will make it easier for consumers to reach out 24/7 on whatever platform they're most comfortable with. Including social media channels and live chat in your customer service mix, along with traditional channels, will create more efficient communication processes for both sides.
5. Make recommendations
Great customer service isn't just about guiding customers through the buyer journey but exceeding their expectations at every step. Using personalisation to make service or product recommendations to your customers based on their individual history and the nature of their enquiry, can help you do just that. Usually, the customer will appreciate your initiative not to mention help boost sales.
Personalised customer service has the power to create unique, lifelong bonds between brands and their consumers. Why settle for anything less than that?
Author:
Snap Franchising Ltd