5 Ways a design professional can help your business
Published: 24 October 2013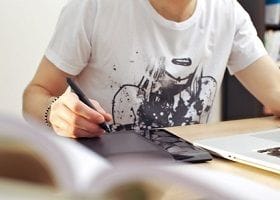 Do I really need to hire a designer?
Whether you're just getting started, looking to revitalise your business or seeking a complete rebrand, hiring a design professional could be the best move you ever make. Read on to discover five ways a design revamp could help your business.
Branding
Establishing a brand identity is one thing communicating that brand identity to your audience is another entirely. Designers know which colours, typefaces and graphics invoke feelings of safety, savings or superior service. Establishing a style guide with a professional designer will help you create consistent visual communications that send the right messages.
Logo
Logos act as an identifier for your brand, and the best logos communicate a lot with very little. It truly is one of the most important branding exercises out there, so getting it right is crucial and a professional's help is a true investment.
Business cards
Despite the fact that we're living in a very digital world, the physical business card is still a regular part of business interactions. A designer can help you create a business card that communicates all the vital touch points and shares something about your brand identity.
Website
Creating a site that is as attractive as it is practical is paramount to doing good business online. A professional designer can help set up your website in a way that is consistent with all your standard communications, adheres to SEO principles, shows that you are both trustworthy and credible, as well as give you a competitive edge.
Marketing materials
Designers see where there's clutter, understand information hierarchy and know the rules of design theory. What does this mean for your marketing? You'll be getting your message across quickly and effectively.
Contact Snap
to see how we can help your business with its design requirements.