5 tips to create a great brochure
Published: 1 May 2014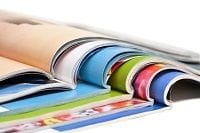 A well designed, informative brochure is an essential tool for any business.
It can establish credibility and solidify brand identity but it must be done well.
1. Who is your target audience?
Is your brochure aimed at CEOs or housewives? Your target audience will determine the look and feel of your brochure. If you have more than one target audience, consider creating a brochure for each for maximum impact.
2. What is your benefit?
Your real benefits might not be what you initially think them to be. You may have a product that helps mums stay more organised, but the real benefit is that this buys them more time to sit down and have a cup of coffee. Think about what your customers will get from your product.
3. How much is too much?
Your brochure should be informative but don't put everything about your business into it. Give your readers enough information to get excited about your product and persuade them to take the next step - placing an order, visiting your website or coming to your store.
4. Is it eye-catching?
Use bright colours and keep the design clean and simple. One large illustration or image on the cover is usually more eye-catching than several pictures. Highlight your most important points on the cover.
5. Does it create a lasting impression?
A great brochure makes a lasting impression, but unfortunately so does a bad one. Use professional designers and copywriters to help you.
Contact Snap to find out how we can help create the ideal brochure for your business.