5 tips for creating the perfect landing page
Published: 1 August 2016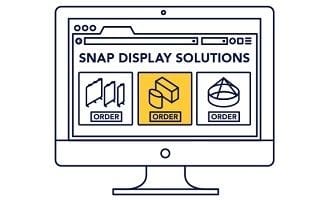 Before we dive into the secrets to creating great landing pages, let's clear up any confusion around.
"What is a landing page?"
In theory, landing pages can be any webpage someone arrives on. However, when digital marketers talk about landing pages, we mean web pages with a single-focus you arrive on after clicking a link.
For example, you could click a Google ad, search result, newsletter link or Facebook promotion that takes you to a page focused on one type of shoe and encouraging you to take action e.g. buy it online, visit the store, call to find out more, etc.
You wouldn't call a homepage or general product page with many different types of shoes a landing page. They're designed to encourage exploration rather than to directly boost conversions.
At the same time, landing pages don't just sell goods or services. They can be designed to increase email subscriptions, sign-ups for a webinar, event attendance and more.
So, what's the winning formula for landing pages?
Here are five critical elements on modern landing pages to help you increase conversions.
Start with a helpful headline
People are impatient online, so headlines always need to grab attention quickly.
The difference with landing pages is that you've already enticed visitors to the page with the headline or text they clicked on to get there.
So with a landing page headline, the most important thing is to assure visitors that they're in the right place. This means it needs to:
closely matches the link visitors arrived from (your ad, social post, newsletter link, etc)
be easy to understand
include a benefit or address a problem
intrigue people enough to read on
For example, if your link said, 'Been declined for a car loan? Our bad credit experts can help'"
Your page headline could be something like, "Bank say 'No' to your car loan?" Talk to our bad credit
experts today".
Feed readers snack-sized content
Once your headline draws readers in, it's time for the body copy to start laying on the charm. But no-one wants walls of complex messages.
You'll have more success if your information is quick and easy to digest. That means using:
descriptive subheads
bulletpoints and short paragraphs
words your audience use and avoiding jargon
plenty of white space (extra important on mobiles)
benefits to explain features
Use visuals to make your messages pop
Did you know the human brain can process visuals 60,000 times faster than text?
So when you're trying to convince impatient web users to take action include engaging visual content, such as videos, images, infographics and icons.
Not only will visuals help you get your message across faster. They add white space and colour, and stimulate different senses (sight and sound) elements that make learning fun and unique.
Clearly state your Call To Action (CTA)
Conversions are the ultimate goal of a landing page. So you need a strong call to action. It could be to Buy Now, Sign Up Today, Contact Our Team, Watch This Video, Download Your eBook, etc.
Many landing pages are let down by poor CTAs, so spend some getting this right:
Be very clear in what you are asking/offering
Avoid having different CTAs (focus on one)
Make your CTAs stand out (a button, surrounded by white space, etc)
Include a CTA above and below the fold (first screen)
Test different wording, colours, etc.
Be mindful of SEO
While many ingredients go into a high ranking on search results, what you do on your landing page can have a major impact on SEO. Remember to:
use keywords in your headline, subheads and naturally in your body copy
make your landing page/site mobile responsive
add links to the page from relevant pages on your site and other sites
Every business and audience is unique, so it's important to do your research before creating any landing page.
If you follow these pointers, adapt to your audience needs and keep testing as you go, you'll be well on your way to creating highly effective landing pages that attract, engage and convert like never before.