5 tips for creating posters that steal the show, crowd and sale
Published: 11 September 2017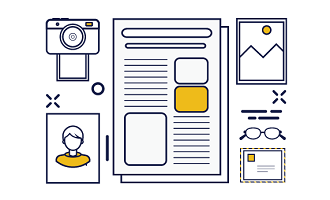 Got something exciting to announce to a local crowd? A sale, store opening, event, new product or service?
Whatever it is, you'll be competing for attention with your customer's phones, low attention span - and all the other messages vying for the spotlight.
It's times like these that you need a show-stopping poster. There's no better way to make a big impact on a small budget, quickly.
Here are five ingredients every posters needs to make it the star of the street, shop window, store wall, venue door, bus shelter or anywhere else you want to capture attention and business from a local crowd.
Start with a great idea
There's a bit to do before you can call your audience captivated. Remember, they'll be walking right past your poster with other things on their minds.
So your design and message needs to be crystal clear in the time it takes for a quick glance by:
connecting to your business and brand
being unique and engage your specific audience
being easy to explain in a few words
having a clear goal e.g. attract calls, attendance, sales
Communicate the big message visually
Your poster needs one focal point that people are drawn to before their eyes wander elsewhere on the piece. It needs to instantly grab and hold the viewer.
Your focal point doesn't have to be an image a big headline or abstract element can work beautifully too. The main thing is that people see this creative element for a split second and recall it later. You can test this out with people you know before you produce your poster.
Use the minimum words to get your message across
Great posters don't mince words. Instead, they let their captivating images do the talking. Of course, some topics need more text than others.
So where possible, slash everything but the most important messages e.g. headline, name, address, date and contact details, etc. Then let arresting, meaningful images tell your story or speak a thousand words for you in a few seconds.
Boldly tell them what to do next
The first crucial goal in any marketing campaign is getting people to look your way. The second goal is to get them to stop and find out what you've got to say. If you've ticked those two boxes, the last thing you want to do is less a hot lead off the hook.
So:
Matt finish works well and looks great indoors on a heavy paper
UV links or laminates help protect outdoor posters from the elements
Gloss paper can really create a great effect however they can reflect lights indoors
Want to break some exciting news to crowds of people on-the-go about your events, sales, new products or anything else?
Take a look at our Big, Bold and Bright posters and other show-stopping products
Author:
Snap Franchising Ltd