5 technology trends that will change your SME business
Published: 30 May 2018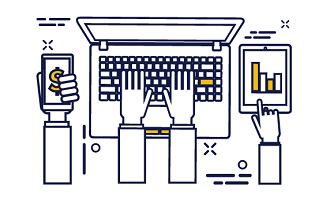 Technology innovations are happening faster than ever. And they're impacting every industry.
In many ways, small and medium sized businesses can benefit from technology even more than big business - because it puts them on an even playing field, without the huge expenses.
Here are five technology trends that are going change business for everyone. The more you learn about them, and sooner you do it, the bigger the rewards for your business.
Cloud computing
The move to storing and accessing data and programs over the Internet instead of computer hard drives is booming. It's now Amazon's biggest moneymaker. And a nice earner for Microsoft too.
As a simple example, if you use Dropbox, you're on the cloud.
SMEs are using cloud to reduce or eliminate up-front tech costs, better share information and bring systems together. It means business owners, employees or contractors can access and create work from anywhere. The cloud has been partly responsible for the rise of the 'supertemp'.
Mobile business
Get on a bus or train and you can see how big mobile is. Everyone is glued to their phones. Yet, as popular as mobile is today, McKinsey expects that by 2025, 80% of connections will be on mobile devices.
And with 5G the standard (66 times faster than 4G), doing business via phones is going to be a much quicker, easier and more enjoyable experience.
Mobile apps will begin to provide everything on demand, wherever we are. SMEs will need to invest in this type of accessibility to compete with big business. This is especially true once mobile payments are as trusted and common as credit card payments.
Big data
Today, no one wants one-size-fits all. That includes customers who expect information on their terms and consume rich content across different devices.
Already, companies are processing and analysing customer information for behavioral insights. As a result, they're reporting greater customer acquisition rates up to 23 times as high.
Small businesses need to look at ways to blend machine learning with historic data to make accurate predictions that will improve customer engagement, conversions and loyalty.
Chatbots
Live chat presents one of the best channels for customer service and support. However, it's not easy for SMEs to answer customers questions at all times.
On the other hand, robots can do it with their eyes closed. That's why Garner research suggests that 85% of customer interactions in in 2020 will not include human beings.
You can train a Chatbot to answer customer questions and solve common issues, saving you a lot of time, expense and customer frustration.
Internet of Things (IoT)
This jargony sounding name and its acronym are all about connecting everyday objects to the Internet and to each another.
For starters, think smart locks, smart cars, FitBiz watches and home appliances like cookers that have dinner ready as you arrive home and fridges that tell you what you're out of and maybe even order it for you.
Manufacturers are using it for product design, to track inventory and monitor equipment for performance and faults, in real-time.
Retailers are using it with mobile apps to push information to customers as they interact with displays. This boosts engagement at smart physical and online stores.
It's also being used in health-care, logistics, transport and other industries.
SMEs that adopt IoT will be able to see customers and opportunities in completely new ways to make better decisions (and allow customers to do the same), backed by facts.
Will IoT be big? There are around 5 billion connected devices today. That number is expected to reach 25 billion by 2020.
These technologies and others - are going to change the way we do business over the coming years and decades.
Instead of jumping right in or panicking about missing out, take the smart approach and learn about these technologies.
Then you'll have a sense of the practical applications for your business and industry in the short and long term. And that will make it easier to plan how they might help your business adapt and grow.