5 social media updates to keep an eye on
Published: 22 July 2016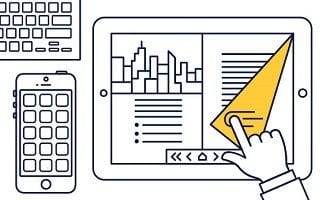 When it comes to social media, it can be hard to keep your finger on the pulse. New platforms are constantly emerging, endless advertising options are being introduced, and algorithms are updated on a seemingly never-ending basis.

Luckily, we've done the research for you.
Here are five key updates in the social media sphere to keep in mind when planning your business' marketing strategy.
Snapchat: the next big platform?
Long seen as the social media platform for millennials, Snapchat is quickly becoming a network that marketers and businesses need to watch. The platform now has 150 million users per day, surpassing Twitter's 140 million, and more than 60% of all its users are under the age of 34.
Brands are beginning to use Snapchat advertising but it's still relatively new for businesses. So, now is the perfect time to capitalise on the platform's popularity to keep your brand top of mind. Engage users on Snapchat by creating Snaps for exclusive behind-the-scenes footage or live content and don't forget to stay human in your tone of voice and what you share.
Facebook updates algorithm (yet again)
It's no surprise that, as more brands are competing for newsfeed real estate on Facebook, organic reach is becoming more elusive. Facebook's latest algorithm update will make organic reach even more difficult for brands, with the company announcing that its algorithm will include more posts from friends and family going forward.

Ultimately, this means that businesses will need to be more willing than ever to pay (and pay more) for exposure on Facebook. For organic reach, it's more important than ever to post relevant, informative and unique content tailored for your community.
Instagram advertising is here to stay
In case you haven't heard, last year Instagram opened doors to advertising through Facebook's Power Editor. With new algorithm updates this year to filter what's organically shown in the newsfeed, Instagram is forcing brands to consider ad spend as part of their marketing strategy.
If your business is thinking of advertising on Instagram, there are a few best practices to keep in mind. Instagram users respond best to stunning visual content, or timely updates, so make sure your ad has visual impact or you'll risk getting ignored (or worse, hidden). On top of that, drive traffic to your website through call-to-actions to dedicated landing pages and you should see some benefit from your Instagram ad spend.
Pinterest releases more features for visual search
Although it's not the largest social network, Pinterest is a great platform for businesses with visual products. More than 2 billion searches are performed on Pinterest every month, plus users are incredibly engaged on the platform, spending more time there than on Facebook or Twitter.

Pinterest's latest updates suggest the platform is geared to become the most powerful visual search engine there is. Its latest update allows users to take an existing pin and visually search for similar products, such as a beautiful table or lamp. Pinterest also introduced new camera search technology, so pinners can take a photo of a product in the real world then match it with pins on the platform.

If you're a business using Pinterest, brush up your strategy so all your pins link to products, and are tagged with the right keywords. The way Pinterest is going, it could be a powerful advertising platform in the future.
Instant messaging as a tool for CRM
In case you haven't noticed already, inboxes are getting cluttered. Email marketing is still effective but as more businesses send more emails, it's getting hard to have your message heard amid the noise.

To better service clients, instant messaging platforms, such as Facebook Messenger and WhatsApp, are becoming popular for customer relationship management. Whether it's providing quotes on Facebook, or allowing clients to add and chat to you in WhatsApp, instant messaging through social media is fast becoming a powerful way for businesses to stand out from the crowd by delivered personalised customer service.

Want to use social media to drive traffic and conversions for your business? Contact Snap for all your digital marketing needs.