5 simple ways to relax and reduce anxiety at work
Published: 25 June 2018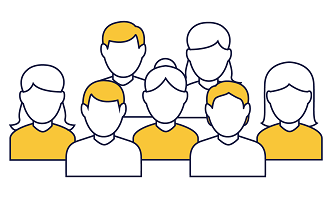 "How's work?" "Stressful". You hear that combination a lot these days.
And no wonder. When you throw technology and a culture of urgency on top of long hours, making sales, servicing clients and managing staff, anxiety levels are going to rise.
But if you're running an SME, taking time out for yourself during work can be a challenge. On the flipside, if you don't, anxiety can affect your:
ability to stay focussed
productivity
thinking
self-esteem
mental, physical and emotional health.
The good news is that, with the right techniques, it's not difficult to keep the stress goblins at bay, even during manic times.
Here are 5 easy ways to overcome anxiety and make the workplace your happy place.
Meditation: Take a 3-minute timeout, anywhere
Meditation has stood the test of time for thousands of years so there is definitely something in it. And you don't have to know anything to practice.
It's a do anywhere technique available in App form, so play around and find your own style.
Try these 4 free Apps:
Insight Timer: Guided with a lot of choice.
Aura: 3 minute guided for stress and anxiety.
Calm: Guided or unguided. Also offers sounds from nature.
Enso: Unguided bell and timer style.
Another option is to do a self-guided meditation:
Sit comfortably in a relaxed but upright position
Soften your gaze, eyes open or closed
Listen to and feel your breath
Notice your wandering mind and bring it back by focussing on your breath
An article from Science Daily states 'meditation yields more marked changes in electrical brain wave activity associated with wakeful, relaxed attention than just resting '.
So take time to meditate, even it's for 3, 5 or 10 minutes. It's a great way to set your intention for the day and/or get you into a better headspace if you are anxious.
Mindfulness: Quiet those nagging voices
Mindfulness has become very on-trend for a reason. It's portable and can be done anywhere, anytime.
Thinking about the past or the future can rope you into overthinking. So, making a decision to be present will make you feel more relaxed and less anxious.
There are a couple of ways to practice:
Sit in a quiet place for 10 minutes or more and close your eyes, let judgement go and when your mind wandersgently bring it back.
If you find it easier, download a free app from Enso to give you more structure.
Mindfulness is also noticing what's going on for you physically.
Is your breathing fast?
Are you slouching at your desk?
Are your muscles tight?
If so gently change things up.
Mindfulness is simply choosing to be present nothing more, nothing less.
Exercise: Move that body
Exercise can lift your mood, change your thoughts and make you feel more relaxed. In fact, studies have proven there is a direct correlation between exercise and positive brain chemistry, such as:
Stress and anxiety release
Improves circulation
Releases toxins
Heart and vascular health
So find what works for you and prioritise yourself, even at work!
Many businesses encourage health, so take advantage of gym memberships and any health benefits on offer.
Otherwise lunchtime is a perfect opportunity to go for a walk, swim or jog.
Get social
Meeting up with friends or colleagues at lunchtime can help you unwind and do wonders for your mood.
Choose familiar people who you are at ease with and where there is no social anxiety at play.
Most importantly, draw boundaries and make a pact to keep work talk out of it.
This is a simple technique that will charge up your energy and balance you out ready for the day or afternoon ahead.
Step into nature
Get out into nature. It's available, it's free and it will transport you to a different place mentally and physically.
Whether it's a park, a workplace balcony or a small patch of grass, just try it. And once you're there, enjoy it no matter what the weather.
Bask in the sunshine. Smell the rain. Feel the wind. Listen to the birds and the trees. Ahhhh, we feel better just thinking about it.
Being in nature is a meditation and a mindfulness practice all in one so rejuvenate, relax and energise.
Get into the habit of self-care and practice one or more of these techniques daily.
Soon you'll notice that you're less anxious, more productive, happier in yourself and arrive home in a better head space.