5 Simple ways to get customer reviews
Published: 14 August 2017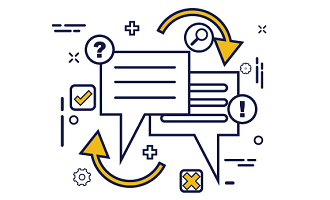 Do you know what the oldest advertising and marketing technique in the world is? Word of mouth (WOM). And today, with 90% of people believing brand recommendations from friends, it's still the most effective.
In the age of the internet, that mouth got a lot bigger as customer reviews and star ratings hugely influence the way people see businesses.
A Bright Local consumer survey says it all:
88% have read reviews to determine the quality of a local business.
85% read up to 10 reviews to make a decision.
72% say positive reviews make them trust a local business more.
88% trust online reviews as much as personal recommendations.
So, how do you encourage customers to take the time to write about their experiences? Here are five ways to motivate people to share their thoughts and experiences on your business, products and services.
Just ask!
The common most reason why customers don't submit reviews is because nobody asks them to. Usually, people only make an effort to share feedback when the experience is either extremely good or bad. Generally, the rest are not moved enough to share a review.
If you are fairly sure someone is happy, definitely ask. If you're not sure, send a polite request to share their thoughts, adding that you value their feedback and would like to use it to better your services. if there was a problem, you can address it then and there.
Do it as soon as possible after they complete the experience. It will be fresh in their minds and they will have better recall. And don't forget to thank them for taking out time to be your customer and for sharing their feedback.
If you don't have a review section on your website, ask people to add reviews to your Google My Business page.
Simplify your review submission process
Make it as simple as possible for people to review a product or service on your site, or leave feedback. For an offline experience, try to include feedback collection at the point of sale, hotel check-out or after a trial period of a product.
The actual review should be short, easy to share and engaging. Avoid long forms or complicated steps. If the environment is right an event or experience usually you could try collecting and recording feedback on audio or video.
Incentivise people to share their thoughts
You don't want to be seen as "buying" feedback, especially positive ones. So, focus on ways to inspire customers to share their thoughts rather than luring them with promises and freebies.
Having softer incentives like points and membership grades can help, if positioned well. You could also try rewarding people with carefully selected token giveaways.
The idea is to move your passive users to active ones, and active users to ambassadors who can't say enough good things about you. That's priceless advertising.
Get all your staff onboard
Gathering enough good reviews, and monitoring the bad ones, can't' happen unless everyone in the business is on board. Once the importance of listening to the customer and valuing their opinion becomes a priority for your employees, it becomes a habit of success.
Listen to conversations and take part
There are platforms where users voice their sentiments without being asked. Brands have to focus on the conversations there and use it smartly to their advantage.
If people see a business listens to their praise and gripes, they will feel valued and continue to share their thoughts.
Keep an eye on popular review sites like Yelp, Product Review and Nabo that encourage users to share their experiences. Thank people for their reviews on your business. If there's a problem ask the person to contact you immediately offline.
Customer reviews have more influence than anything you can say about your own business. So it's worth the time and effort required to serve people well and then ask them to rate that service. Or, if they have a bad experience, do everything you can to fix it.
By starting to get active with the tactics above, you'll quickly help ramp up your WOM status whether it's in your local community or online for the world to see.