5 customer service trends to have on your radar
Published: 17 April 2019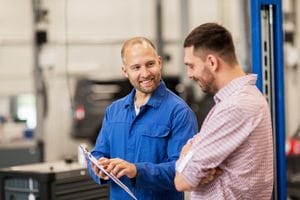 As customer needs continue to change, the ways in which we can make our customers feel supported are also evolving. As such, it's become increasingly important to regularly audit your business's tools, procedures and protocols to make sure your service still stands up against your competitors. In your audit, consider these five service trends to help you offer your customers more instant, and more personalised, support.
1. Customer service video content
68% of people questioned in this annual video marketing report by Wyzowl said they prefer learning about a new product or service via video. In fact, 96% said they've already used video as a medium to learn more about a brand's product or service in the past. This is a strong indicator of people's preference to 'self-service' online instead of calling a customer service line or seeking help in-store.
For brands, short 'how-to' videos on how to use or troubleshoot a product can go a long way in terms of customer satisfaction. It can also provide instant gratification and, therefore, prevent frustration almost certainly caused by long telephone holding queues.
2. Monitoring customer health
Keeping customer health scores has become the latest craze in the customer service realm. Scores are used to indicate a customer's level of satisfaction based on different activity or inactivity factors.
Some companies like to visualise their customer's health score by using the traffic light model. Here, a good customer health score would appear in green, whereas those who are likely to drop off in the near future appear in red. This can help brands target their customer retention efforts more precisely.
3. Prioritising convenience
In the customer service game, convenience is king. After all, your customers don't want to jump over a thousand hurdles to solve a simple query and neither would you. Ask yourself, how easy is it for your customers to get support right now? How many hoops do they need to jump through? Identifying and reducing these barriers can improve the overall experience for your customers and, thus, boost your retention rates.
4. Personalisation through segmentation
Yes, personalisation is still a buzz-word this year especially in the customer service sector. As people start to appreciate the benefits of personalised service more, it's becoming easier for businesses to collect the data required to be able to provide such experiences. Going one step further and segmenting customers into specific groups can help brands create even more personalised experiences by collating special interest or age groups.
5. AI support
You've probably heard artificial intelligence (AI) is currently all the rage. But don't worry, it's not going to take our lives over just yet. Rather, AI being used to help customer service agents provide better support to your customers.
When trying to resolve an issue, AI-trained agents know how to ask the software the right questions, so it can find the best answer for the customer. In the process, AI considers and compares enquiries made by customers with a similar profile and feeds the agent all the information they need to help the client. This process also enables AI to anticipate problems that may not have occurred yet, allowing brands to prepare for these eventualities.
As technology becomes more and more prevalent part in our lives, we need to find more ways to use its powers for good so why not enhance our customers' experiences in the process?