5 creative brochure design tactics customers can't resist
Published: 8 August 2018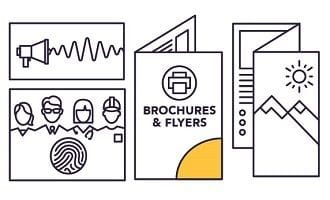 A brochure can promote the greatest product or service in the world. But if it isn't eye-catching and intriguing enough to get noticed, picked up and poured over, many potential customers will never know.
So how can you transform an Average Joe business brochure into a star attraction on an SME budget?
Lure your customers in with one or more of these five simple, yet irresistible, creative brochure design tactics.
Curiosity-arousing print finishes
Intricate, affordable print finishes are a fantastic way to build curiosity in a brochure reader's mind.
The audience are immediately drawn in because they need to have a closer look and discover how the embellishment is even possible. For example:
Digital foil inks that create a beyond-the-paper 3D effect
UV and other shimmering under reflections of lights
in luxurious metallic, gold or silver, elevated from the surface.
They are fantastic way to instantly fire up the minds of your busy target audience.
Learn more about print finishes that build curiosity and conversions
Striking colours
Bold and vivid colour can capture attention in a crowd of people or competitive brochures.
So, they're an excellent addition to a brochure that's coming with you to an event, or sitting on a table or shelved on a wall alongside similar products.
Of course, it's important that the colours you choose match your brand colours or business personality.
If you're business is a conservative one, you may need to be more careful with your choice of colours and how much you use them on the brochure than if you are a 'fun brand'.
Patterns also make a striking visual statement because the human eye is naturally drawn to them.
Impressive stocks
Many business owners leave paper stock quality and type as an afterthought in brochure printing.
But savvy business owners know how powerful and effective the right paper can be in grabbing attention and swaying opinions.
Like print finishes, paper stock plays on multiple senses we see it, we feel it and we smell it. That's why stock should be one of the most considered decisions in your whole brochure design and production process.
For example, gloss paper is viewed as:
prestigious
perfect for pieces with photographs and other visuals
not the best option for heavy text as glare makes reading difficult.
While matte paper is:
great for brochures with a mix of photos and text
seen as a high quality stock.
Another option is uncoated paper, which is:
popular with minimalist, environmentally-focused millennials
a natural-looking, organic texture that reflects this persona
ideal for heavy text brochures as there is no glare
not considered prestigious or high quality (but can be with the right stock).
To find the stock that will capture your audience's attention, ask yourself:
Who are we talking to with this brochure?
Will we have many photos?
Do we need to explain a lot with text?
Which paper best reflects our brand personality?
Eye-catching images
Photos can be a crucial element in your brochure's communication. And with attention spans so short, you can't afford to waste space with images that are just there for aesthetic reasons.
Make sure your images are:
appealing and interesting to your audience (e.g. include a person like them, a situation they would like to be in, something fun, etc)
relevant to your business.
If you can't afford a professional photographer, most good photo libraries ofer high quality professional stock photos that don't look like stock shots. You want yours to look original.
An experienced graphic designer can also make recommendations and source images for you.
Unique shapes and die cuts
Brochure pages don't have to be rectangular. With the right folds or die cut they can be squares, circles, triangles, or almost any shape you desire.
As with the tactics mentioned above, unusual shapes can quickly surprise and build audience curiosity on sight and make for an unforgettable first impact.
Even the way your brochure folds can draw readers in. A bi-fold or single sheet printed on both sides and folded in half, or a tri-fold into thirds are quite common.
But how about a quad fold, or a rectangle brochure that opens into a large A3 or A2 sheet with four or eight pages on each side? Or a square brochure that opens like an album?
Your only limit is your imagination.
Well designed, targeted and printed brochures are cost-effective marketing tools for building brand reputation, leads and sales.
But first, you need to get that precious marketing piece into your audience's hands and keep it there. These five design tactics can help you with that.
If you'd like to know more about any of these or other brochure design ideas, talk to the experts at your local Snap Centre today.
Author:
Snap Franchising Ltd