4 ways to choose a business name (and 4 things to avoid)
Published: 28 April 2017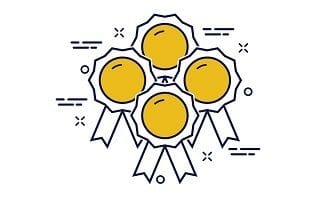 What's in a name? Just ask Beyoncé, Elvis, Pele - or Lassie. Similarly, the name of a business is at the heart of that business. Everything about the brand and the operations are linked to the name.
Often, business names last a lifetime (or until two businesses hook up, get married and one changes it's name).
So, it's important to put a lot of thought into the word or words that will be uttered as your team, suppliers, customers and the generally curious, refer to you.
Four Do's when choosing a business name
1. Make it unique and internet-friendly
Ensure that you have a name that stands out, but is also relatable and relevant to your industry or the service you provide.
Once you've brainstormed some ideas, check to make sure you can get the exact domain name for your website. You don't want people going to the wrong site. Plus, some research on Google search to see what the competition is like on similar domains. You don't want to be confused with a terrible site that may have one different letter in its web address.
2. Only involve your key decision makers
It's tempting to send around name ideas to or request ideas from as many people as possible. However, this just leaves you open to a wide range of opinions (usually with no facts to back them up) that will only confuse you more.
Choose a small, core group of people in the business (or close to it) in the selection process. For example, partners, senior managers and an external focus group or knowledgeable friends who understand your industry.
3. Check for compatibility
Try for a name that suggests what you do. For example, calling your painting business "Living Colour Homes", or 'Platinum Painting" is going to help more people quickly understand what you do than "Smith & Co".
Do an analysis of what competition has chosen. Look for non-English, relatively known names that have meaning. For example, Acer, a PC vendor, takes its name from the Latin word meaning 'acute', while Ubuntu, an operating system, takes its name from a Zulu word meaning 'sharing and connecting all humanity'.
4. Keep it simple
Focus on finding a name that has an emotional connect with the space you are in. 'Mama's Cake & Bakes' has a larger emotional connect than 'Best Cakes and Bakes'. And try to keep it short so it's easy to remember.
Four Don'ts when choosing a business name
1. Be generic or similar to your competitors
Avoid the urge to go for names similar to the early movers in the industry. For example 'Trip Advice', because TripAdvisor is among the best-ranked travel sites. Avoid generic names like Health Insurance, Personal Banking, or Fruit Shakes.
2. Be ambiguous
Avoid names that may be obscure and misleading. A brand name like 'Beauty 4 You' could be interpreted in a number of ways causing confusion among customers.
Of course, there are exceptions where abstract names that say nothing about the offering have done well, but that usually requires an extraordinary business, or something huge to happen to the business. Or both. You may have heard of Apple and Google.
3. Limit your geography or service by your name
Think beyond the short-term when choosing a name for your business. Picking a name with a local flavour or your immediate geographical indication like 'Balmain Pizzas' can help with local SEO, but it can limit you when your business expands to newer markets.
Similarly, don't settle for a name that is too specific when you are considering expanding to other products in the future. For example, you wouldn't want to name your business Coopers Brakes, if you are planning to get into providing a whole range of car parts and repairs down the track.
4. Make it difficult to promote
Another reason to avoid uber-creative names that have no relevance to your offering is that it can make marketing the business a big challenge. You may need to invest unnecessary time, effort and money just to explain yourself.
Choosing a name for your business should be fun (like the owners of these 12 pun business names must have had) after all, it's like your newborn baby. But it's important to remember that the name you choose can impact the way people view your business and its success.
For the record, Larry Page and Sergey Brin came up with the name of their search engine by misspelling "googol," the word for the number one followed by a hundred zeros.
But you've got a far better chance of finding a great name for your business and building a brand around it if you talk to the Snap team.