4 simple, unique and powerful ways to thank your best clients
Published: 3 July 2017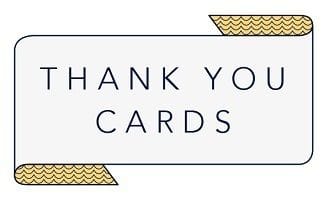 You don't hear thank you a lot these days. People are so busy and stressed about taking on the next task or going to the next place they often forget to stop and acknowledge those who helped them get to where they are.
That's why a moment of genuine gratitude makes such a difference
Research has found that showing appreciation in business doesn't just lift the mood of both the reciever and the giver, it can actually improve profits and success too.
Sometimes, we want to thank our new or valued clients, but a simple 'Thanks' may not feel enough.
However, we're not good at expressing ourselves in words. And an expensive gift may not send the right message or be viable.
An unexpected thankyou goes a long way
Here are four simple, unique and powerful ways to let anyone business know how much you appreciate them - and bring a smile to their face, knowing they get to do business with someone like you.
Say it with a Thank You card
Send a personalised Thank You card to a staff member, client, supplier or anyone else who has supported your business or been there you when you needed help. It's a wonderful gesture that:
tells them you truly appreciated their time, effort and support
displays care, courtesy and professionalism
sets you apart from most business people
You can include a personal message in print or add your own message in handwriting. If you are sending cards to a lot of people for example at Christmas - you can print a general thank you message and then add a personal one for each receiver, or a few select few.
It's a small gesture that says so much.
Fun Stickers
The world can always do with a few more laughs, and personalised stickers can be a great way to tickle your client's funny bone while thanking them.
Let your creativity run wild (or get help from a graphic designer) and come up with a relevant idea that also expresses your appreciation. For example, 'Jenny, Official Superstar Client' or 'John's our Superhero' in a cartoon star or superhero style sticker they can proudly show off around their office and home.
If you're thanking a team, you could also create a poster featuring them as superheros or pop-culture stars.
Printed T-Shirts
Everyone loves a good t-shirt especially the one-of-a-kind variety. Printed t-shirts up-sizes the thank you sticker concept and takes it to the streets.
You can add longer messages, illustrations and more, even promote your own logo. For this one to work, you'll a want to be fairly confident that you know the receiver's personality type and size.
When done right, you'll make someone very happy who's also proud to walk around promoting you as a caring and fun business.
Monogrammed Notebook
Lots of businesses give out diaries to their customers during the festival season. If you want to stand out with something professional and elegant you can add your client's monogram, or stylised initials, to a diary, notebook or other printed gift.
While it makes a fantastic and unique Christmas present, it's an appropriate and impressive gift at any time of the year. Especially as a smile-inducing thank you.
It doesn't take a lot to make someone feel special for something they've done to help. You just need to show them that their effort is genuinely appreciated and make your thanks a heartfelt one.
So put a little time and thought into a simple and unique thank you message, card or gift. It can help you build the special kind of relationships that less aware or grateful people and businesses will only dream of.