4 free and easy ways to market your business online
Published: 6 June 2018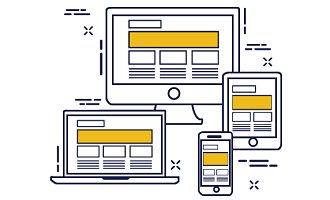 Marketing is an important investment for almost every business. However, you need to be vigilant with the time, person-power and budget that you allocate to telling the world why they should do business with you.
For SMEs, the most impactful way to market is using a smart mix of online and offline tactics.
While you're probably familiar with cost-effective print marketing ideas, such as postcards, display signs, personalised printing and direct mail, you may not be so aware of online marketing options beyond a high performing website and email.
Here are four free, easy and effective ways to capture the attention, loyalty and business of customers online.
Google My Business
A great place to start - especially if you sell to locals is to create a page on Google My Business. This will help you work your way towards showing up in the map and front page of search results when people type in '(your industry) (your suburb)' e.g. plumber Parramatta.
You can include relevant information about your website, location, open times, contact details and, of course, content and promotions you're offering.
Share the link with your customers and ask them to post a review of their experience with your products/services for potential customers to see. The more reviews you have, the higher you'll rank.
Plus, leveraging features like Google 360 and virtual tours can add another dimension to your listing.
Facebook page
Facebook has had some controversial publicity lately, but its two billion members aren't going anywhere soon.
You can quickly set up a Facebook page under your business name with a logo, About Us details, your address, contact numbers, business timings and any other customer related information.
Make sure your Facebook page:
is updated regularly and has call-to-action content like usable product information, promotions and testimonials
is monitored and provides timely replies to questions and comments
includes high quality photos and videos, plus a personal tone to encourage people to like your page, share it and keep returning for more.
Online reviews
The ease with which people can find information on businesses via the web means reputations are quickly made - and broken. Social media has had a big impact here. As have online review sites.
The fact is, people look for reviews from previous customers. This is called social proof. In other words, they want to make sure someone else found a business reputable before they hand over any money.
Reviews are not always fair, but it's hard to combat a bad one unless you embrace review sites as a marketing opportunity.
So, invite happy customers to leave feedback on sites such as Yelp, Product Review and, as stated earlier, Google My Business.
No-one expects a perfect record. In fact, studies show that many people think companies with 100% positive reviews must writing their own. But if you have a lot of good, genuine reviews, to outweigh a few negative ones, people will see you as a business to trust.

Online directories
It's hard to crack Google search without a big budget. That's why you need to take advantage of every important and free local SEO ranking factor available.
One easy tactic is to add your business name, address, phone number and social network pages to relevant local internet directories. This will boost the number of 'online citations', or mentions, that your business has.
This boosts your reputation with Google and can encourage them to show you off higher on search results pages.
To get maximum visibility and enquiries, start with prominent ones like Yelp, Hotfrog, True Local, Aussie Web and Yellow Pages.

Marketing an SME to get the best possible return on investment is about finding opportunities that competitors are missing. Or working out ways to use them better than anyone else does.
These four online strategies are quick, easy and free ways to get your name out to potential customers online. They should be an essential part of every SMEs online and offline marketing strategy.