4 disturbing signs your logo needs a makeover
Published: 6 June 2017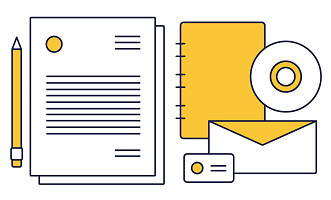 Logos have a big job description - and big responsibilities. They need to be immediately recognisable. And they need to inspire trust, admiration and loyalty.
That's why it's so important to have a highly professional logo that truly represents your business - and where you want it to be.
As your business evolves and times change you may have to update your logo to:
boost or maintain your brand image
be unique and recognisable
attract new and existing clients.
So, how do you know if it is time to update your logo? You agree with the following
1. Your logo can't connect with your target audience
This often happens when your focus has changed or your customer's needs have changed. An updated logo can increase the appeal and let people know where your business is headed and that you're keeping up with the changing customer preferences.
A great example of this is Netflix who released a new single letter logo exclusively for their mobile app. The red-banded N folds over itself similar to a strip of celluloid film.
2. Your competitors' logo is more memorable than yours
You don't want a logo that looks similar to a competitor - or even a brand in another industry or country. Uniqueness is one of the things that makes a logo stand out and be easily recognisable. If your logo looks like competitor's logo, you risk not having an identity in the minds of your target audience. Worse yet, people could mistake you for them, losing your business.
A logo update gives you the opportunity to create something that differentiates you from the pack.
3. Your logo gives the impression of being outdated
It's important all elements of your business keep up with the changing times. If your logo was created based on past trends it may look old and dated now. And that reflects on you and your business overall.
The best strategy is to try for a timeless design that can be tweaked through the years. For example, the London Underground logo has hardly changed in 100 years.
A fresh look sends a message that you are moving with time and not stuck in the past. That's why companies like Coca-Cola update their logo regularly, without losing their brand identity.
4. You have a very complicated logo
Logos work best when they are simple and easy to recollect. Think about McDonald's golden arches.
Some businesses try to incorporate too many messages in their logo. Not only does this confuse people or lose their attention, complicated logos often don't translate well on multiple platforms.
A good logo should be able to shine on the web or TV, in print and up in lights on a billboard.
Should we redesign our logo or start from scratch?
If your logo is recognised, it may be best to use it to your advantage and not create an entirely new logo.
For example, Aldi recently updated its logo to be more contemporary and reflect the changing times while retaining the essence of the trusted and recognised logo. People notice the change but still immediately associate the logo with Aldi.
Some of the ways you could redesign your logo include:
tweaking the shapes and icons
selecting an easy to read typeface or one that better represents you
doing away with extensions such as Inc., LLC or .com
changing the bevels, shadows, outlines, and gradients
fine-tuning and blending colours
altering the size, layout, or proportions of elements.
On the other hand, your logo isn't so recognisable and you have one or more of the potential problems discussed above, it might be time for a complete design overhaul. And that ties in to your over branding.
Whether you're thinking of a logo tweak or an extreme makeover, it will help greatly to talk to the graphic and logo design experts and your local Snap Centre.