2014 design trends
Published: 17 June 2014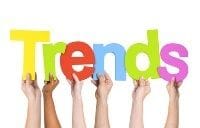 We're halfway through 2014, so the tone of the year has been well and truly set.
Read on as we weigh in on the design trends that have emerged in the first half of the year.
Flat design
The backlash to skeuomorphic design (which attempted to bring real life to the screen) is flat design, and it's proven to be one of the most prominent aesthetics of 2014. So what is it? Flat design is a minimal approach that removes any unnecessary clutter like shadows and bevels, instead focusing on user experience, simplicity and vivid block colours.
The lesson: Sometimes more really is too much. User experience should always come first.
Grid layouts
Grid design was celebrated on Pinterest and has slowly filtered down to just about every new website design even print formats. Like flat design, grid design puts viewer experience and simplicity at the forefront. It also helps you fit a lot of information in a little space.
The lesson: If you have a lot of different things to say, dividing them up into a grid can help your reader identify where one piece of information ends and another begins.
Handwritten fonts
Natural and original designs have been huge in 2014, and handwritten fonts tick both boxes with gusto. A handwritten font, especially in the case of a logo, could help set your brand apart.
The lesson: In the age of instant downloads and replicas of everything, handwritten fonts offer a slice of originality.
Retro graphics
In photography, Instagram-inspired images started to show up in all sorts of design, and the trend isn't dead yet. In addition, the graphic work of the '70s and '80s, including arcade game design, has seen quite a revival, and it fits right in with the simplicity and minimalism of the other three trends.
The lesson: Look to the past for inspiration and keep it simple!
For help making good design decisions in 2014, contact your local Snap Centre.