2014: New year, new mindset
Published: 2 January 2014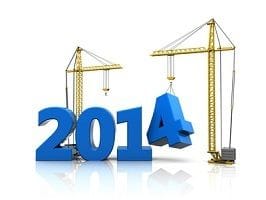 Kick start the new year with five inspirational quotes
We all want to kick off 2014 with a business bang, but when it comes to that first day back in the office after the holiday break, it can be all too easy to fall right back into those old habits. To ensure you get the year off to a flying start, we've compiled five inspirational quotes to motivate you for a year of good business.
"The best way to predict the future is to invent it." Alan Kay
Stop wasting time trying to predict what's going to happen and start taking action!
"There is nothing so useless as doing efficiently that which should not be done at all." Peter Drucker
Downsize your workload to upsize the results on the important work. Start off the year with a fresh calendar marked out with time dedicated to the most important tasks.
"To improve is to change; to be perfect is to change often." Winston Churchill
Whether it's a total rebrand, a fresh approach to your marketing strategy or a few subtle changes to the way you deal with clients, make 2014 the year you evolve as a business.
"The richest people in the world look for and build networks. Everyone else looks for work." Robert Kiyosaki
Prepare for a year of meaningful
networking
with your business cards printed and a willingness to listen to others.
"A life spent making mistakes is not only more honourable, but more useful than a life spent doing nothing." George Bernard Shaw
Make 2014 a year where you learn from your mistakes, for mistakes are proof of effort to change and better yourself and your business.
Contact your local Snap Centre to get your office, business cards, marketing materials and more organised for the year ahead.