10 hot digital marketing trends you need to be testing out
Published: 12 April 2017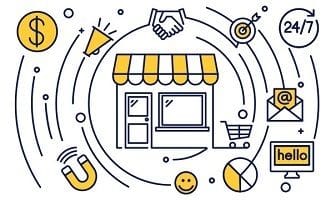 New digital marketing technology and strategies are making it easier for every business to understand their audiences and cater to their needs. In many ways, it's we're all sitting on a cyber goldmine where simple tools (many free) can unearth invaluable information that reaps more sales, loyal customers and better ROI.
Here are ten you should be exploring - if you haven't already.
1. Content marketing communities
Creating a niche group of users who share a common interest across multiple platforms can be a very powerful tool for your brand.
For example, building a group in LinkedIn or Facebook around a specific topic can build more awareness with your target markets, generate interest and inquiries around your products and services, and convert curious group members into subscribers and advocates for your brand.
2. Conversion rate optimisation
Conversion rate optimisation (CRO) is a great opportunity for SMEs to take a cost-effective scientific approach to:
improving the effectiveness of your site
converting more visitors into customers.
In short, CRO helps you to identify ways you can improve your site to get a higher percentage of people to take action - sign up for your newsletter, buy your product or service, etc. So your cost per sale dramatically reduces. For example, you could test with different headlines, button colours, or call-to-action, paths they went through and more.
3. Retargeting ads
Retargeting shows relevant ads to people after they leave your website. For example, a potential customer visits your rock guitar lessons page on your site, but leaves without checking out.
Later he's checking out a Rolling Stones film clip on YouTube and an ad from you pops up asking 'Want to learn to play like Keith? Click here for rock guitar lessons'.
Some say it's a little creepy, but results show retargeting recaptures many potential buyer's interest and brings them back. According to Digital Information World users who are retargeted to are 70% more likely to convert.
4. Online PR
A powerful and cost-effective way to market your business and brand to a wide audience. It's like traditional PR but instead of telling your story in newspapers and magazines it's done through blogs, social media and search.
For example, you could hire a journalist to write a blog article for you that gets traction on popular websites, news sites etc. with links pointing to your website. This could boost your brand and credibility in your field and push you up Google rankings for certain terms.
5. Search Engine Optimisation 3.0
Fr a long time now, SEO has been a defining factor for attracting traffic, getting new business and retaining engagement with existing customers.
With the rise of virtual assistants like Siri and Cortana, more people are becoming accustomed to using their voice for search. As a result, SEO and keyword use are also changing where the focus is more and more about what the searcher really needs, rather than just the words they use.
6. Marketing Automation
Who has time to keep on top of repetitive marketing tasks such as social post, emails and blog updates? There is now software that can do it for you. For example, sending different emails at the perfect time to people based on their needs and interaction with your content (purchased, didn't buy, watched a webinar, etc.).
Hand the drudge over to a robot so you can get on with something more interesting and productive.
7. Mobile marketing
If you want to effectively reach consumers today, mobile marketing is a must do. And with 65% of all digital content now accessed via a mobile device, good mobile ads can mean higher revenues and customising features translate into closer client relationships.
Start using video ads to capture a user's attention and guide them to your website. Create a mobile app so that your consumers can access your products or services instantly. The phone is your oyster!
8. Partnerships including affiliate and co-marketing
Businesses cannot afford to work in silos anymore. Success is about better networking and integration to reach a wider target audience on the (relatively) cheap. Building partnerships with likeminded and related business on co-branded projects is proving popular and effective.
9. Social media marketing
Yes, you know it's hot - no-one shuts up about social media. But seriously, if you're not on-board with social yet - or at least testing the waters - you're treading on risky ground.
Depending on your business and audience, Facebook, LinkedIn, Twitter, Instagram, Snapchat and Pinterest are where the people you want are spending their time, creating relationships, and listening to trusted connections about who they should and shouldn't do business with.
And the environment is constantly changing. Recently, Facebook ads grew while Google slipped. Now Instagram ads are seeing higher engagement levels than standard Facebook ads.
10. Wearables
Not to be confused with edible wearables! We're talking about AR and VR technology, Apple headsets, smart sports shoes, emotion apps, tech tattoos and other mind-spinning inventions.
While it's early days yet, the aim of wearables is to help people learn more about themselves, others, and the world around them, and benefit from it. Be it better health, fitness, entertainment, business, shopping experiences or a world of other ideas being conjured up every day.
Technology and marketing are moving at a pace never seen before. While it can be overwhelming when you're busy running a small business, also remember that many new technologies:
can save you time and money
do the time-consuming, frustrating and detailed jobs
help you better understand and serve your customers
are becoming easier to learn to use.
And you don't need to know about all of them. So start to explore the amazing range of free and affordable digital marketing technology available to you - and your competition.
You just never know where it could take your business.