10 elements of a successful business website
Published: 28 August 2012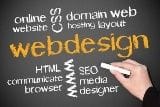 The strength of your online presence can make or break your business nowadays.
A well-designed website can highlight your professionalism and be a powerful catalyst for client relationships and growth. Conversely, a bad website can seriously damage your credibility and alienate your business from online-savvy prospects. Here are the top 10 elements of a successful website.
1. Your 'About' page is the first port of call for clients looking for more information about your brand. It should be well-written and offer a relevant snapshot of your products and services.
2. Clear navigation is essential to create the kind of user experience that keeps clients coming back. Make sure your website adopts a simple, streamlined layout and avoids clutter and unnecessary information.
3. Social sharing buttons are vital for sharing news and relevant links with your clients via social networks.
4. An up-to-date contact page is crucial for making it as easy as possible for prospects to reach you.
5. A regularly updated, well-written company blog might be good for SEO, but it can also drive client engagement and establish you as a thought leader in your industry.
6. If you distribute a company newsletter, make sure you include a link or pop-up box that encourages interested clients to subscribe.
7. Whether you're an online retailer or service provider, your website should include clear calls to action that capture leads and communicate your message to your client.
8. Including a sitemap on your website simplifies the navigation process and ensures that clients can locate pertinent information with minimum fuss.
9. Relevant, meaningful content that speaks directly to your client is a vital element of a good business website. The content on your website should reflect your core offering and serve as an extension of your brand.
10. If you're a large business, improving your site search function can speed up the search process and put clients in touch with relevant information faster.
Speak to your local Snap Centre about how they can help you build and design a professional website for your business.