10 design tips to make an impact at exhibitions and tradeshows
Published: 19 September 2016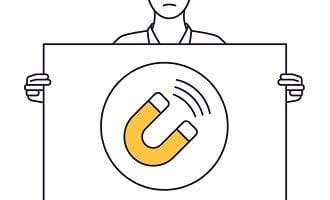 Magnetic event posters
Posters are powerful, eye-catching marketing tools to get messages out at busy events such as exhibitions and tradeshows.

But it takes more than just a big sheet of paper with a bold image or message to stop people in their tracks.
Here are 10 tips to help you design a cool looking poster that gets your audience's attention, interest and action.
Begin with a clear idea
You'll save a lot of time and energy if you have an idea in mind when you start working on the design. The idea should drive the visual, not the other way around. Ask yourself, "If someone remembers one idea about my work, what do I want that to be?"

It's important to know your audience so you can match the idea and design to their likes, personality and motivations.
Get creative with your design
Creativity knows no bounds. Have some fun and find inspiration around you. Try different styles or learn a new technique or skill. Stretch your imagination to create something fresh and unique.
But don't add elements for the sake of creativity. Sometimes less is more. One word or dramatic image can often say it best.
Make a visual impact
At a bustling event, your poster has one glance to capture someone's attention, so:
if there's not much text, use a big, bold, simple image.
if the message is in your words, use a big headline and break your text into groups.
You can also use contrasting, eye-catching colours to emphasise the subject and clarify the different sections of your poster.
Consider size and location
Where is your poster going to be located?
Will it be on a wall, a table, a stand?
How big will it be?
What else is around it?
Knowing this information is vital when considering the size your words, graphic elements and photos.
Make sure the text is easy read - from anywhere
At an event, there will be people wandering past at a distance, and others who are up close and personal. Use lots of white space and large, simple and clear fonts that can be as easily read from a couple of metres and a couple of feet away.
Avoid mixing up lots of fonts on one poster (two at the most) unless you're aiming for a 'loud' look and feel.
Create balance for the eye
This doesn't mean your poster elements need to be perfectly centred. It's about the right balance of text, colour and images throughout the design. So one side isn't heavy with all of the words or all of the graphics.
Add credibility with photos
A beautiful photo of your product lends it credibility.
It's real and your audience can see the quality right there in front of them. If you aren't showcasing your own product or people, there are plenty of photo libraries with amazing selections of images to choose from.
Illustrate a whole new world
You may not have the budget to shoot your own photographs - or they may not be the right option anyway.
Illustrations can open a whole new world of creative possibilities, where you bring your own characters and dramatic effects to life.
Remember to ask for action
Having an effective call to action, such as event details - where and when to go, who to contact, etc are essential.
With everyone walking around carrying smartphones these days, you may want to include a QR code so people who are interested, but going somewhere can quickly scan the information.
Enhance your design with quality printing
Like the Mona Lisa being stuck in a cardboard frame, or listening to a remastered vinyl edition of Abbey Rd through airline earphones, bad printing can really drag down the quality and appeal of your poster and brand.

On the other hand, good quality printing using the right stock, UV inks, laminate if it's going to be displayed outside, etc can truly boost the allure and impact of your great design work.

That doesn't mean you need expensive printing. There are lots of great affordable options. It's more important that you use the best possible quality poster printing for your budget.
Weave some of these ideas into your next poster design to help capture the eyes, minds and business of your event audience.