'Living coral' named Pantone's 2019 colour of the year
Published: 23 January 2019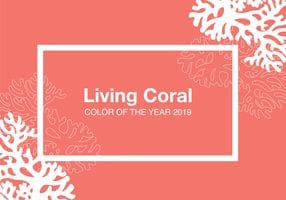 In the design world, Pantone's colour of the year is undoubtedly one of the most anticipated colour trend forecasts of the year. This year's chosen shade is a peachy hue called 'Living Coral' and, like its predecessors, is predicted to have a significant influence on design industries and purchasing decisions in 2019. Here's why should give it a try.
Pantone's legacy
Since developing its unique colour matching system in 1963, Pantone has become a leading force in the global colour, print and trend forecasting industry. Titled the Pantone Matching System (PMS), it categorises colours via a complex coding system to streamline production and communication processes between designers and printers. Thus, it ensures consistent colour results regardless of where products are printed
The Pantone colour of the year
For nearly 20 years, Pantone's trend forecasting division, the Pantone Color Institute has chosen a colour of the year. Each time it went on to dominate designs in various global industries from marketing, to product, fashion and interior design. The quest for finding the colour of the year begins in autumn (spring in the northern hemisphere) and takes about nine months of thorough research.
As part of their extensive process, Pantone's forecasters observe and analyse relevant social and colour trends around the globe. Once they have gathered enough information, they start narrowing down the selection until they've found 'the one'. During the process, "we ask ourselves about the message that colour brings, and how we may be trying to use the colour to shape our experience," Leatrice Eiseman, Executive Director of the Pantone Color Institute, recently told the New York Times.
Living Coral
Inspired by the beauty of our natural coral reefs, Pantone describes 'Living Coral' as an "animating and live-affirming coral hue with a golden undertone" that is equally energising and comforting.
Eiseman claims there's a strong desire for more 'real-world' contact as digitalisation increasingly influences how we go about our daily lives, which is what resonated with this year's choice. "With consumers craving human interaction and social connection, the humanising and heartening qualities displayed by the convivial PANTONE Living Coral hit a responsive chord."
How 'Living Coral' can revive your campaigns
Due to its temporary nature, the Pantone Color of the Year might not be ideal for use in grand rebranding schemes. That said, it can still be a great asset in upcoming campaigns and to make your marketing materials 'pop'. A refreshing, eye-catching hue, 'Living Coral' adds a young and thoroughly positive touch to your marketing collateral whether as a feature colour or just a bold colour accent.
What's more, because of the extensive publicity surrounding Pantone's colour of the year, consumers are likely to already have positive associations with 'Living Coral'. This can help your marketing efforts gain more traction and even tip purchasing decisions in your favour. Additionally, there's a social media hashtag (#COY2019) which can help increase your campaign's online exposure.
In the ever-evolving world of design, acting on trends like the Pantone Color of the Year can have a positive effect on the perception of your brand. It tells your target audience that you're adaptable and you've got your finger on the pulse of time. So, why not try it now?