Website design ideas-ultimate eCommerce web design checklist
Published: 7 October 2016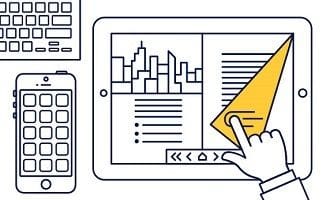 Create an eCommerce website that attracts and engages all types of shoppers
Good web design is incredibly important for eCommerce sites. Without it, businesses run the risk of losing potential shoppers at the first hurdle.
According to the Nielsen Norman Group, there are five types of shoppers. To help you navigate the eCommerce universe, we've put together a checklist that will satisfy each of these five types of shopper's needs below.
1. Product focused
Shoppers that know exactky what they want. For these efficient spenders, speed is of the essence. Help ensure your site can keep up with their needs by:
Including clear and accurate product names.
Creating concise product descriptions including all the essential information.
Designing a streamlined checkout process.
Implementing an effective search tool.
2. Browsers
Whether they're visiting your site to kill time or they're idly looking for inspiration, browsers have no clear agenda. Appeal to them and encourage purchases by:
Recommending products and related links for similar types of items.
Highlighting sales and new product lines.
Providing easy ways to share more information about the products they're interested in.
3. Researchers
While researchers are goal driven, they don't have the same time limit as product-focused shoppers. They want a good deal, so meet their requirements by:
Providing a method of comparing similar products that you offer.
Flaunting user reviews and product recommendations.
Including detailed product descriptions that contain essential information.
Creating a checkout that shoppers can edit and revisit multiple times.
4. Bargain hunters
These may be shoppers who are completely focused from the outset, or others who have been tempted by the thought of a good deal. Grab their attention by:
Revealing discounts and savings next to the product price.
Having a dedicated sale or discount area.
Providing a straightforward way to redeem discounts or coupons.
5. One-time shoppers
They may be visiting your site with a one-time need because they have a gift to buy or a gift card to spend. Make sure they make a purchase by:
Ensuring you have a secure and trustworthy-looking site.
Arranging clear site navigation and a simple checkout process.
Displaying easy-to-understand product descriptions.
While its important to know your target consumers and create a site that works well for them, you should also ensure your business never misses an opportunity by designing a site that caters to all shoppers requirements.
Contact your local Snap Centre to learn more about creating a fit-for-purpose eCommerce site.