The importance of a brand story
Published: 4 June 2013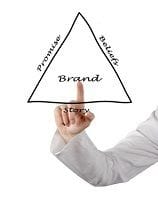 A conversation peice
A brand story is a way to portray your business aims and mantras to the world above and beyond a marketing message. It's how big names like McDonald's, Coca-Cola and Starbucks stand out from the crowd and continue to thrive in a world with many alternatives and competitors.
Why you need a brand story
While you can help shape the opinion of your brand on your website and in your marketing materials, a
brand
story goes beyond this it helps shape what clients hear, rather than what you say. If you want to be seen as innovative, if you want to be synonymous with your product and if you want to be the go-to destination, you need a strong story.
Examples of good brand stories
One of the best examples of a successful brand story is Red Bull. Its main product is an energy drink that perks you up and makes life more exciting. They've backed up this opinion by being an exciting brand, not only does it own a top Formula 1 racing team, but it made worldwide headlines with stunts such as all-round daredevil Felix Baumgartner jumping from space.
Nike is another success story, especially with its Livestrong campaign, where it built a community that raises awareness, support and solutions for cancer sufferers and their loved ones. Nike makes sure it is seen as a winner and has long associated sporting heroes, including Michael Jordan and Tiger Woods, with its brand.
How to get started
Think of how you want to be seen as an innovator, as someone reliable, as someone passionate and set your company in that direction. Make sure everything paints your business in that light, from your online presence to the way your employees behave and, most importantly, to the products or services you offer. If your message isn't in line with what you actually do then you'll fall flat.

Contact Snap
to find out how we can help your business communicate its brand story through our print, design and website services.