Snap and the MustMeetEllens
Published: 5 April 2013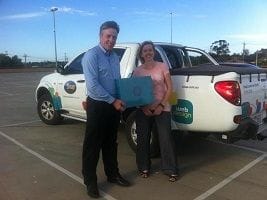 Picture the scene.....
Snap Laverton North Franchise Owner, Rod Harrington is enjoying the end of his holiday at 6pm on a Friday night, when his phone rings. It's a client with a special request can we have three leather bound books made by the following week? Of course the reply was yes, and the job was revealed as special fan books for the upcoming visit to Melbourne of talk show host Ellen DeGeneres!
First thing Tuesday morning the job began (Monday was a public holiday), sourcing leather for the cover, to be printed with a specially designed logo, the talk show's signature turquoise colour sourced for the leather, gathering blank pages for the fan signatures, coordinating artwork, printing and assembly of all the pieces to create the finished work. A complicated piece of art had to be printed on the leather front cover, and the books had to be bound in such a way that the pages had the flexibility to move pages from one book to another. Plus a pull-up banner to accompnay the group to their signing days. All in a day's work at Snap.
The books and banner were delivered to the "MustMeetEllens" in time for the group's deadline. But their hero was struck down with the flu, and postponed her trip. The MustMeetEllens soldiered on, with multiple fan signing days conducted around Melbourne during the lead-up to her visit. Attending Ellen's filming day in Melbourne the girls continued to gather signatures for their book, and now have the necessary contacts to pursue their quest to deliver the books to Ellen, even scoring some airtime on TV.
The MustMeetEllens thanked Snap Laverton North for their help to get this project off the ground in record time. Snap is a proud Aussie company since 1899, and our Centre at Laverton North was happy to share with Ellen some good old fashioned Aussie service!