Rod Harrington from Snap Laverton North Wins Snap's Prestigious Murray Read-Smith Lifetime Achievement Award
Published: 21 May 2021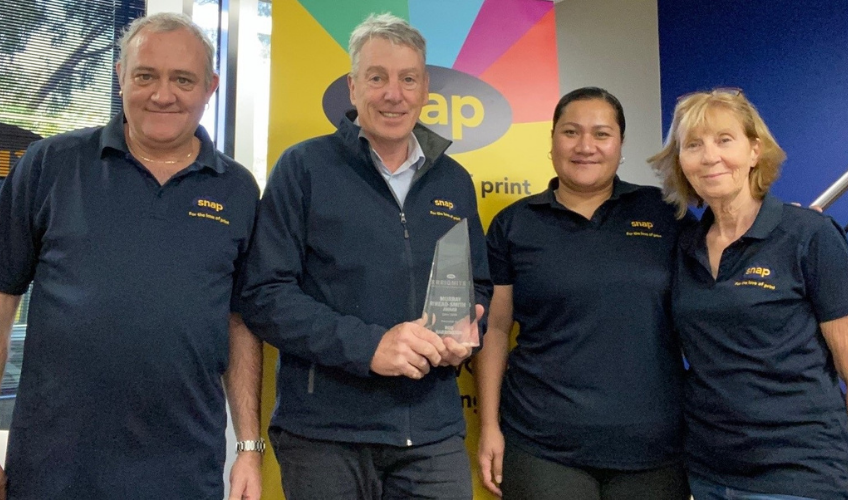 On Thursday March 11, SNAP presented '
REIGNITE
' - the 2021 Virtual Awards Event. The event recognised the achievements of the Snap Print & Design network, celebrating in particular the winners of twelve award categories. Amongst those awards is the prestigious Murray Read-Smith Lifetime Achievement Award. The Murray Read-Smith Lifetime Achievement Award recognises an individual for their lifetime achievement with and to the Snap brand. Award criteria includes Snap Citizenship, Longevity of Tenure, Contribution to Snap's Success (beyond their own Centre's), Mentoring and Development of Staff, Passion for the Snap Brand, and High Ranking in Customer Feedback.
Congratulations to Rod Harrington from Snap Laverton North on winning the prestigious Murray Read-Smith Lifetime Achievement Award! A video of the award presentation to Rod by Snap Franchising Limited CEO Richard Thame can be watched on YouTube here.
Rod, who has lived in the Werribee area since he was 10 years old, was over the moon to have received such a recognition, but was quick to put the credit for the award down to the support of the team at Snap Laverton North.
"I'm overwhelmed to be receiving this prestigious award. It's a team effort, they always support me, they show a lot of initiative, they're always focussed on the customer, and they treat the business like it's their own. It means a lot to me to have this team with me," said Rod.
It has been a tough 12-months for the Snap Centre, as they battled the impact of COVID-19 and Rod said the most important thing was the support of his staff, without which he would have struggled to have gotten through.
"It was a difficult time and there was a lot of pressure for me personally and the staff stepped up and did what had to be done. The lesson of COVID for me, is that you are only as good as the people around you."
Snap CEO Richard Thame describes the Murray Read-Smith Lifetime Achievement Award as a special award in the Snap network that encompassed longevity of tenure, local community support, and mentoring and developing staff.
"This award represents someone who embraces the values that Snap stand for, that is not only someone who is exceptional at what they do, but someone who is community minded and sees the development of staff as a key to a successful business. There is no one more deserving of such an award than Rod." said Richard.
Well know in the local community, Rod volunteers his time as President of local golf and cricketing clubs and sees volunteering as a wonderful way of giving back to the local community.
"Being able to give something back, whether it's time as a volunteer for a local club or to be able to support local clubs and not-for-profits through the business, is so important. If we can all give something back, then the stronger the community becomes." said Rod.
Author:
Snap Print & Design