Snap Port Macquarie Win Snap's Commitment To Customer Service Award
Published: 26 May 2021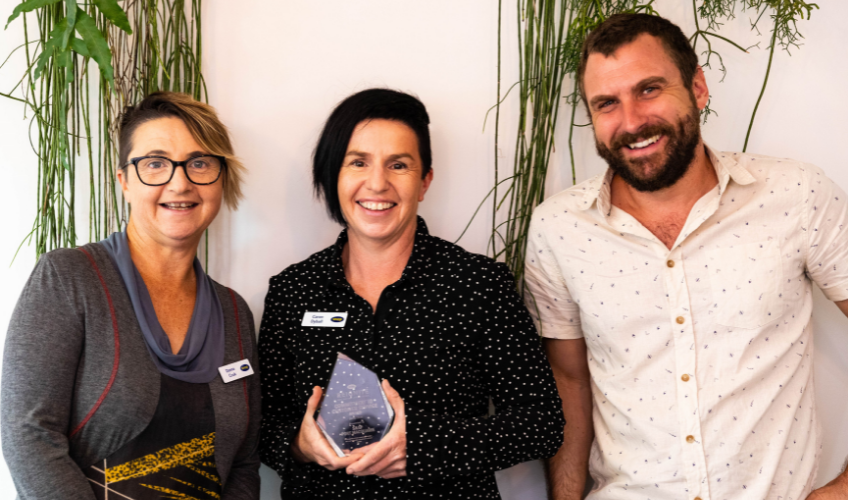 On Thursday March 11, SNAP presented 'REIGNITE' - the 2021 Virtual Awards Event. The event recognised the achievements of the Snap Print & Design network, celebrating in particular the winners of twelve award categories. Amongst those awards is the Commitment To Customer Service Award. The Commitment To Customer Service Award recognises Snap Centre achievement for high NPS score plus number of reviews and review quality.
Congratulations to Snap Port Macquarie on winning the Commitment To Customer Service Award!
When it comes to passions, Caron Dyball who has been helping business in Port Macquarie for the past 31-years with their print needs, it comes down to two things - motorbikes and looking after her customers.
"I am a Ducati girl and there is no better place in the world than Port Macquarie to jump on the bike and enjoy that sea air, it's a blessing." said Caron.
A blessing and at times a curse as Caron and her four staff have, along with the locals in the past 18-months, faced fires, a pandemic, and floods.
"It has been a rocky ride the past little while, but we are luckier than most and have gotten through with our business intact. I put that down to the continued support of our loyal customers." said Caron.
For Caron and her team, it is a customer first attitude, many of whom have been visiting Snap Port Macquarie for decades.
"For myself and the team, it is all about the customers. Without them, none of us would have a job which is why we pride ourselves on our service most of all." said Caron.
"Caron has been one of our great Snap success stories and the one thing you learn when you chat with Caron is her love of her customers and the Port Macquarie community. This is why it was so pleasing to announce that Caron and her team had taken out the Commitment To Customer Service Award." said Richard Thame, Snap CEO.
The community is everything to Caron, with her and her team providing support to the local Koala Hospital and sporting and community groups.
"I love this community, the people, the lifestyle, and there is no better joy that you can get than by giving something back to help make it an even stronger community." said Caron.
Author:
Snap Print & Design