Snap Midland Win Snap's WA State Award
Published: 15 May 2021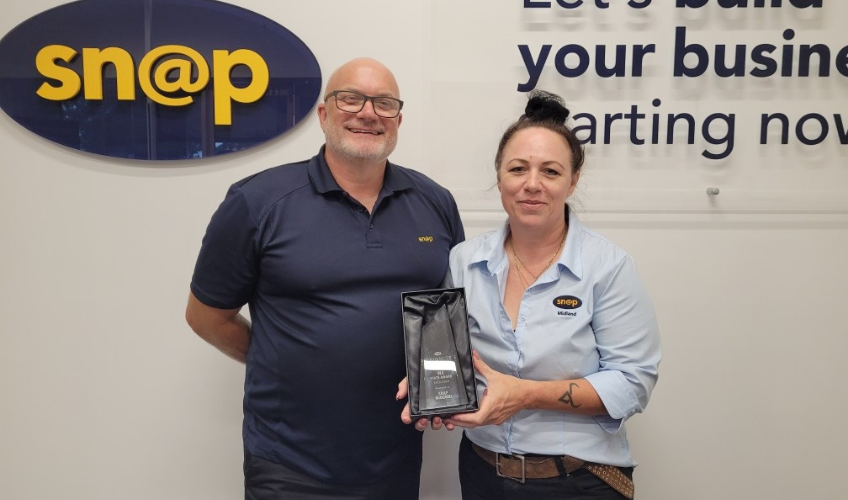 On Thursday March 11, SNAP presented '
REIGNITE
' - the 2021 Virtual Awards Event. The event recognised the achievements of the Snap Print & Design network, celebrating in particular the winners of twelve award categories. Amongst those awards is the WA State Award. The State Awards recognise Snap Centre achievement and contribution across a range of criteria including Snap Citizenship, Brand Image and Operational Compliance, Participation in Snap Forums, Take-up of New Initiatives, and Sales Focus and Achievement.
Congratulations to Snap Midland on winning the WA State Award!
Franchise owner Deborah Whitburn said that the award was significant for her and her team at Snap Midland given the challenges that the business has faced through the COVID-19 pandemic.
"The hardest part was to see the impact on clients we had worked with for years. It was a challenging environment for all businesses and the most pleasing aspect for our business is that we were able to keep all staff employed through the pandemic."
Snap CEO Richard Thame, who announced the Snap award winners at the virtual event, said that the one thing that comes through in the work of the Snap Midland Centre is their commitment to the local community.
"Deborah has had decades of experience in print and as a Snap franchise owner not only has the business attributes needed to be successful, but also embodies the community spirit that is such a part of the Snap brand."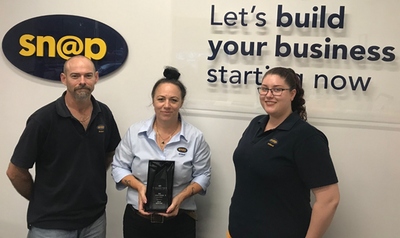 Deborah puts the success of the Snap Midland Centre and the WA State Award down to hard work and the experience of her team, which has over 60 years of combined experience in the print industry. The other key element is the relationship that the Centre has with the local community, which includes supporting local charities and youth service organisations.
"Our local communities are so important, and we do what we can to support local support service charities where we can. Local jobs are also critical for a community to thrive, which is why we all have a role to play in supporting our local businesses by shopping local, as without them our kids won't have a job," said Deborah Whitburn.
Author:
Snap Print & Design