Research shows print advertising is more effective than online
Published: 22 June 2017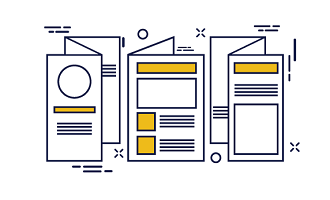 In this digital era, print advertising is assumed to be far less efficient and effective than online advertising. But several studies from Australia Post, Roy Morgan and others, suggest otherwise.
Web marketing rules...doesn't it?
There are many benefits to marketing and advertising online. On the web you can target audiences at the very moment they're in search of something you have. Or, at least, audiences who have recently shown an interest in something you offer.
And with mobile devices so popular, you can connect with them just about anywhere.
However, the web world is a cluttered world
And with human attention spans diminishing every day - and impatience growing just as quickly - online advertising is often seen as a distraction or barrier to performing tasks (pop-ups boxes and banners, etc) or completely ignored (static banners, video ads, email marketing, etc).
That's why print is still king to many consumers
There is no doubt that the web is a vital piece of the marketing pie for most businesses these days - people want to explore business websites, receive their emails and connect with them on social networks.
However, print continues to achieve excellent results for businesses of all sizes. This is especially true for small businesses with limited budgets that need to get the word out about their products, services, promotions and offers.
The reason we don't always hear about print's achievements, is that it's not as 'sexy' a topic as online. People love talking about the new. And the web is where it's happening.
But while new online is grabbing all the limelight and watercooler discussion time, print is quietly bringing in the business.
And there are a number of reasons why.
Consumers see print as more effective
A Nielsen consumer survey report on advertising found that catalogues and flyers have the highest impact on people's buying decisions:
62% of the 9000 interviewed rated them as the top effective advertising channel.
Ahead of TV with 52%
Only 12% felt online display advertising was the most effective.
Personalised direct print mail (29%) was seen as more effective than email marketing (%25).
Millennials pay more attention to print
An experiment conducted at the Centre for Experimental Consumer Psychology at Bangor University proved that printed material created deeper impressions on the brain.
As part of a Quad/Graphics Customer Focus 2014 Research Study of people 18-34 years of age, advertising material was shown to the participants on a screen and on paper and the MRI scanner determined deeper stimuli when paper ads were held in the hand:
77% of millennials pay attention to direct mail
73% to retail inserts
54% to catalogues
51% to magazines
Compared to online materials where:
51% to email marketing
50% to online ads
48% to mobile text
People use print to make purchase decisions
Maintaining consumer trust is one of the fundamental parts of doing business. Studies have shown that print is considered a more trustworthy and authoritative source of information and people have a stronger emotional connection to messages delivered on paper.
Evidence of this is in the fact that when receiving unaddressed catalogues and flyers:
50% of shoppers use them for price comparisons
36% go online to further investigate the offer
36% go to the store to learn more about the deal or buy
Certain categories perform exceptionally well in print
Roy Morgan, Australia's best known and longest established market research company, conducted a Research Single Source of 55,000 Australians on their buying habits in 28 market segments. Results showed that print:
ranked top 3 media across all 28 segments
ranked number 1 in clothing, alcohol, groceries and toys
catalogues were the leader in all retail sectors.
Print is tactile and plays on multiple senses
Print tantalises our senses. The feel smell and the glossy look of a freshly printed brochure or magazine evoke more emotions than anything in pixels.
The physical and emotional connection with print makes the experience unique. We still see something truly magical about superbly designed and finished printed marketing material that the online can't quite match.
This is why there has been such a growing demand amongst SMEs for unique and beautiful embellished print finishes on their brochures, postcards, flyers, business cards and posters