Print Marketing turns heads with millennials
Published: 6 February 2017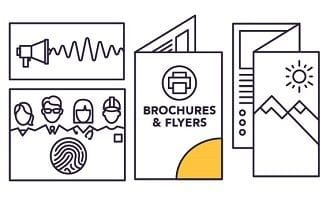 Five reasons why print marketing is the feel good hit of 2017 especially with millennials
Over the past decade, digital has flipped the marketing world on its head. But with the rise of 'fake news' and constant barrage of messages wherever we turn online, it could be argued that web marketing has lost a lot of its 'new kid on the block' gloss.
For many business owners and their customers, this has highlighted the unique benefits that print marketing offers print ads, brochures and flyers, calendars, books, posters, fridge magnets or anything else that connects your business with your client through printed words and images.
But what's really surprising, is that the people falling for print are not just with those who remember the 20th century and what it was like to receive a real postcard.
Millennials 4 Print for real
While it appears that young people are superglued to their phones or perhaps they really are research shows they also get a big kick out of print marketing and print materials.
In a US study entitled, "Millennials: An Emerging Consumer Powerhouse" it was found that:
77% of millennials engage with their direct mail
73% read retail inserts
54% pay attention to catalogues
51% read print magazines.
For small to medium businesses, that's exciting news.
Even better, it's not just youthful curiosity about ye olde marketing that has everyone hitting 'Print'.
Older generations are also enjoying the break that print material offers from hours of staring at walls of pixels on a screen a.k.a computer vision syndrome, and endless stream of online promotions.
1. Print makes us feel better
Like digital marketing, print marketing can be enormously effective if used smartly. The trouble with the web world is that it's becoming more and more difficult to sift through and attain the exact information we want.
That means it can be a challenge for your business messages to get noticed. And often, especially on social media, those messages only live for a moment before vanishing forever.
Print lasts longer, and is easy to retrieve at your leisure. And, for many people, holding paper and feeling it has a powerful tactile effect.
2. Plus, we remember things that we touch
A study of students conducted in Norway found that those who viewed printed documents remembered far more than those who read online. This was due to 'spatio-temporal markers' - the act of touching paper and turning pages makes it easier to remember where you read something.
So printed material created with the right techniques and carefully selected messages will often provide a better sensory experience than something via digital, as well as being remembered in more detail and for longer.
3. Print builds trust around your business
The digital era has robbed the authenticity of content in many ways. Fake news, clickbait headlines and other tactics used to grab impatient web users has reduced the credibility of digital content to a certain degree.
Print content often translates into greater credibility and accountability. It's not just pixels that can't be touched or felt or will disappear into the cyber night. It's solid and real just like your business. As a result many surveys have found people trust printed content more than digital content.
4. People love to see themselves in print
There's something hugely satisfying to humans about holding paper or card with our own image or name on it. This is one of the reasons personalised printing has proven so effective.
It's also more satisfying to show to your friends, family or colleagues than doing it online. After all, most of us have shown and seen dozens of personal photos on Facebook and Instagram.
Things like personalised calendars, postcards, thankyou cards and more are gifts that get noticed and proudly displayed or shown off.
5. Print is just easier to read
Studies have shown that we read 25% slower online, and prefer 50% less text in same space as text. That means:
You can have more detailed information on the one page
People will actively dive into and read more of your message
Readers don't get distracted so quickly today
In 2017, print is a powerful marketing tool - arguably even more powerful than it's been in years. If you'd like to find out more about the huge range of print marketing strategies you can put to work for your business get in touch with your local Snap marketing specialist today.